Looking to get away with your loved one for a couple of days? A romantic country getaway in Malaga is the perfect way to reconnect with nature. Although it still remains a bit of a secret, the inland part of the province is bursting with unexpected landscapes that will leave you speechless. Leafy woods, rivers, lakes, white villages filled with history and delicious food await. So why not discover it all on this 4-day drive through the heart of the Costa del Sol?

Day 1: Benalauría – Algatocín – Júzcar - Ronda
Your adventure starts in the midst of Serranía de Ronda with its abundance of charming villages. Benalauría is a small municipality surrounded by verdant pine woods where, on clear days, you can see the coast of Africa from across the Mediterranean. This Berber-origin village is a veritable picture-postcard of inland Costa del Sol that you will fall right in love with.
One of the greatest attractions in the area is Bosque de Cobre, "copper wood", a forest nestled amid Genal valley, that earned its name for the beautiful colours of the chestnut trees when they lose their leaves in autumn. This is the perfect time to marvel at the technicolour vista, though the wood is stunningly beautiful all year round. If you fancy taking a walk through a calm and tranquil landscape, this is the place for you.
Just a couple of kilometres from Benalauría is Algatocín, a village whose verdant mountains and white streets contrast to paint a picturesque scene. With a Moorish past that you can still perceive today, Algatocín benefits from the natural beauty of the Serranía de Ronda. Sitting on a mountain between the Genal and Guadiaro rivers, the Arab village clings to the hillside, offering steep, narrow and winding streets. The perfect destination if you love nature and gastronomy.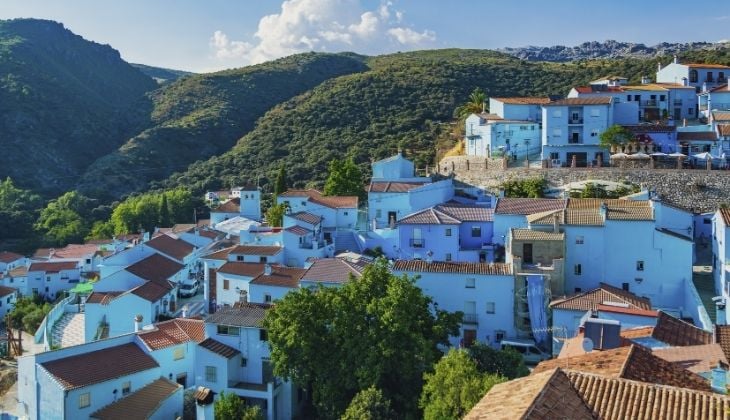 On the way to Ronda, you'll pass through Júzcar, a village that is defined by something truly unique: all of its houses are painted blue, creating a fantastical scene. Once you've visited Júzcar, you will continue to Ronda, where you will spend the night. We recommend staying in wonderful hotels like Hotel Maestranza Ronda and Hotel Boutique Molino del Arco.
Day 2: Ronda – Benaoján – El Chorro
After a good night's rest, your romantic country getaway in Malaga continues with an exploration of the many charms of Ronda, which is considered one of the most beautiful municipalities in the province. One of its main charms is its precarious position. The town sits on a rocky plateau that split in two, due to a geological phenomenon, creating a 100m deep fissure that follows the Guadalevín river, known as el Tajo. The town is therefore divided in two with the historic centre to the south and the newer town to the north. As you walk through the town, don't miss out on the main sights, including Puente Nuevo (18th century), Puente Viejo (17th century), Palacio de Mondragón (housing Museo de Ronda), Palacio del Marqués de Salvatierra and Convento de Santo Domingo.
Once you've soaked up all the history and culture, you will continue to Benaoján: a village with an Arab past, defined by steep and winding streets that hide one of the greatest cave networks in Spain beneath them. If you like caving, you're in luck: Cueva de la Pileta and Cueva del Gato offer an incredible underground wonderland to explore. And that's not all. You can also make the most of the great outdoors by hiking, climbing or even kayaking down the Guadiaro river. After, you will drive a couple of kilometres further until El Chorro, where you'll spend the night in the charming complejo turístico La Garganta.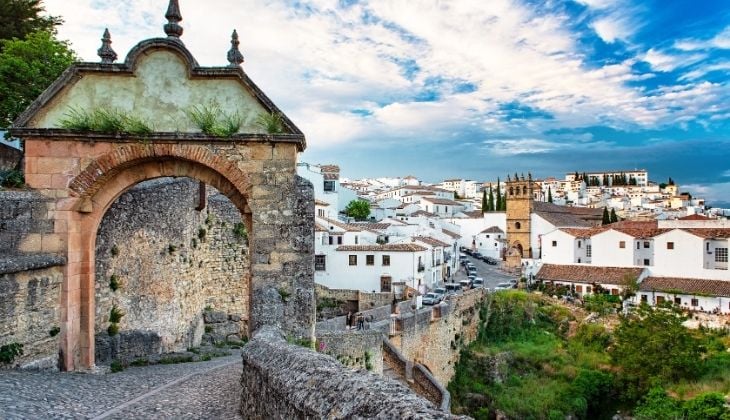 Day 3: El Chorro - Caminito del Rey, Antequera
If you were looking to relax and disconnect, when you wake up next to El Chorro reservoir you'll feel your mission has been a success. You're not far here from Desfiladero de los Gaitanes natural park and the famous Caminito del Rey. Comprising a series of walkways clinging to the walls of the gorge, with parts hanging 105 metres above the river, this walk will blow you away. Make sure you get your entrance tickets in advance.
After enjoying a day immersed in nature, you will continue to Antequera, a town that has a vast historic and cultural legacy and extraordinary natural surroundings and archaeological sites. Here you will take a step back in time to discover a glorious history that has left behind mansions, churches and convents in a variety of styles, as well as an Islamic fortress and the Dólmenes de Antequera, a prehistoric site that UNESCO declared a World Heritage Site. When the sun sets, you can regain your strengths at Hotel Antequera, a comfortable hotel with a spa where you can relax before continuing on your journey.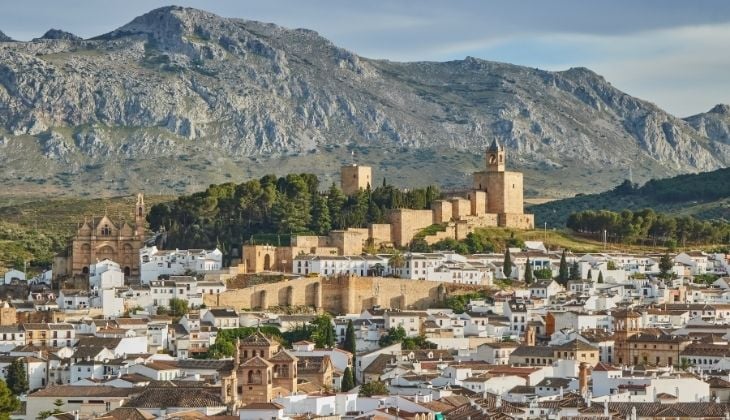 Day 4: El Torcal de Antequera – Comares – Frigiliana
The fourth day of your adventure through inland Malaga will take you on a discovery of the most awe-inspiring karstic landscape in Europe: Torcal de Antequera. As if it were a town made of stone, the site is filled with rocks, alleyways and labyrinths that look like different sculpted figures. There are two hiking routes you can take to discover the area, taking you about two hours. Head to the Visitor Centre to find all the information you need.
Then you will climb back in your car until Comares, one of the prettiest white villages in the county of Axarquía and essential stop-off on the Raisin Route. Characterised by its labyrinthian alleyways and Moorish architecture, the village sits in an elevated position, known as the Balcón de la Axarquía. In addition to breathing in the landscape, if you like a bit of adventure, why not wizz down Comares zip line: the longest zip line in Spain at 436m long and 115m high.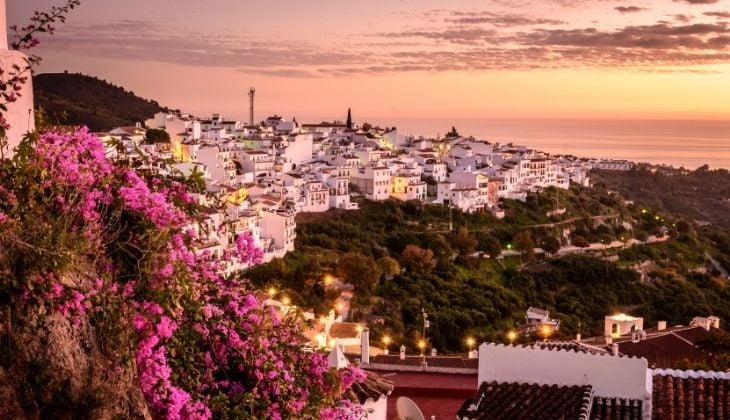 After getting your adrenaline fix, you can conclude your romantic country getaway in Malaga in one of the most stunning municipalities in the province: Frigiliana. Located in the midst of Sierras de Tejeda, Almijara y Alhama natural park, this is the perfect backdrop for lovers of hiking and nature. The municipality also boasts the purest example of Arab architecture in the province. Its white houses, traditional cuisine and Moorish past of narrow streets and alleyways make Frigiliana one of the best places to travel through the five senses.
Once you've finished your exploration of Frigiliana, your romantic getaway will have come to an end. However, if you've got some more time on your hands to explore inland Costa del Sol, you can take things a bit slower or add extra villages and natural wildernesses to the route. Take a look at this route if you need some inspiration and don't forget that our webpage contains all the information you need for your next trip to the Costa del Sol.