We all like to eat well! And when we get to do it in a beautiful restaurant, we like it even more. That said, when you're travelling with young children, finding a nice restaurant where children won't be bored is easier said than done. Lucky for parents, Costa del Sol has a slew of restaurants and bars with ball pits, bounce houses, clowns, live entertainment and more just for kids.

Poppins - Alhaurín de la Torre
Standing next to Alhaurín de la Torre's Oriental Park, Poppins is a charming cafe-restaurant with a toy library. Perfect for kids and adults alike, Poppins serves tasty weekend lunches, snacks, dinners and special children's menus that are only rivalled by the restaurant's children's entertainment, fun presentations and gifts. There are in-house babysitters here, which means kids can play while their parents enjoy a menu of tapas, salads, gourmet burgers, toasts, coffees, premium gin and tonics and more just 50 metres away. When you're done eating, you can grab your little ones and take a stroll through stunning Oriental Park.
Parada en la Granja - Rincón de la Victoria
Located in Torre de Benagalbón, in Rincón de la Victoria, Parada en la Granja embodies an adorable farmhouse theme. (Think: wood accents, bales of straw, a cosy atmosphere and a food truck with delicious, healthy food.) Most notably, there's a large, supervised children's area with a sandbox full of toys, a slide, an Indian teepee, musical instruments and even a small farm with animal figurines. Families come back to this restaurant for both the food and the fun!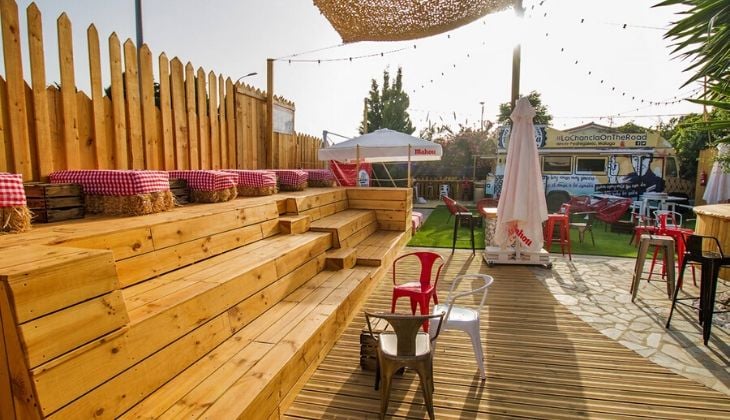 Source: Tourism - City Council of Rincón de la Victoria
Riosol - Rincón de la Victoria
This Rincón de la Victoria restaurant first opened in 1980. Since then, it has become a popular place for families! In addition to having a 1,000-square-metre children's area with a regular weekend schedule of clowns, games and children's activities, Riosol has inflatable castles, a swing set, different garden areas where kids can play and an extensive menu of food for every palate.
El Ojopatio – Málaga
Located in the Teatinos neighbourhood of Malaga capital, El Ojopatio is one of the best restaurants for families in Costa del Sol. This restaurant is divided into many different spaces, one of which is a kids area with in-house supervision, games, children's activities and more. While the little ones play, the adults can eat and drink! El Ojopatio is a lovely place to go for delicious Spanish tapas, Spanish-fusion cuisine, sweet desserts, tasty snacks, wine, cocktails and more.
La Viborilla - Benalmádena
La Viborilla, in Benalmádena, is one of the longest-standing restaurants in Costa del Sol. Founded in 1974 on the beach it is named for, La Viborilla has become a benchmark for good food and good service in the province of Malaga. While its delicious food is reason enough to go—think: different types of rice, fried fish, seafood dishes, meat, pasta and more—the star of the show is the restaurant's unbelievable sea views. On top of that, La Viborilla has a large terrace with an inflatable castle where kids can play and a weekend lineup of live, family-friendly entertainment.
Source: La Viborilla Restaurant
Travelling with young children can be hard! Fortunately, in Costa del Sol, it doesn't have to be. Go to any of the restaurants listed above, and you'll be able to enjoy an authentic night out in the stunning province of Malaga without having to worry about constantly entertaining your little ones.

Planning your trip? Pick a hotel that works best for you and your family, reserve a table at some of the restaurants listed above and discover all the family fun you can have in Costa del Sol.