Every beautiful day in Costa del Sol ends with a beautiful sunset. Grab your special someone and experience it together! When you do, you'll instantly feel more relaxed, tranquil and disconnected from the hustle and bustle of daily life.
In the province of Malaga, there are plenty of romantic spots where you and your significant other can watch the sunset over the horizon. Bring your camera—you won't want to miss this!
El Tajo de

Ronda
Many people view Ronda as one of the most romantic places in the province of Malaga. The landscape there alone is incredible—and when the light begins to fade and the sun shines its pink-orange hue all over it, it's hard not to be transported back to centuries past. From El Tajo de Ronda, you'll get a complete view of the whole landscape and city. Stay at nearby Parador de Ronda and it's simply magical.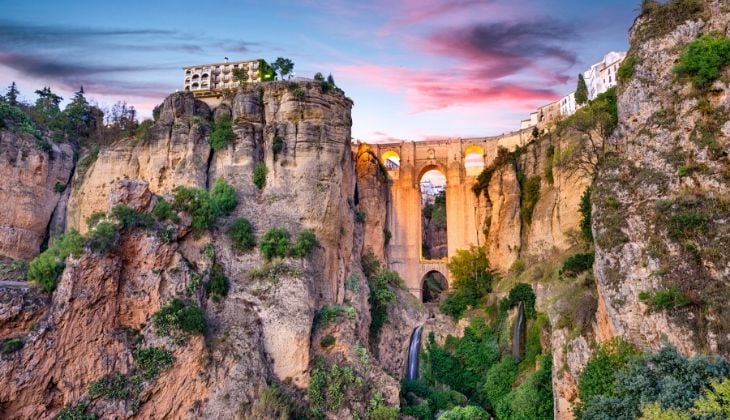 Gibralfaro Castle (Malaga)
Gibralfaro Castle, a 14th-century building perched high above Malaga capital, is a must-see site with the best views of the city and the Mediterranean Sea. At sunset, they'll leave you speechless! To make your evening even more romantic, follow with dinner at Parador de Gibralfaro, where a delicious Mediterranean dinner on a stunning terrace makes for a bewitching evening, indeed.
Torcal de Antequera Natural Area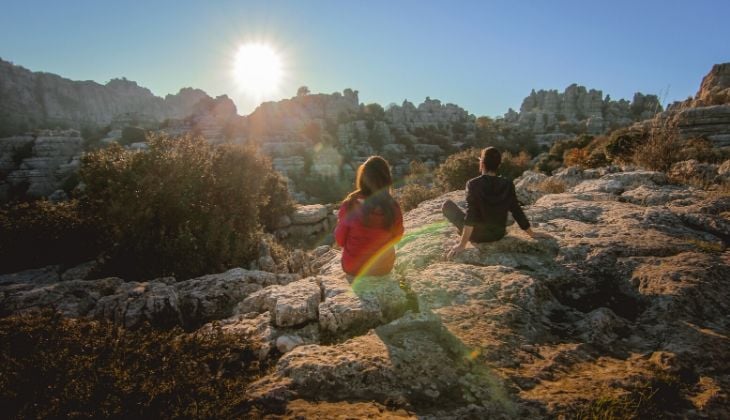 When we talk about sunsets, we can't forget to mention Torcal de Antequera Natural Area. Known for its interesting limestone formations, this unique karst site sits at about 1,000 metres above Antequera. As the sun goes down, the orange sky and grey rocks seem to create a magical purple hue over the entire landscape. Visitors who see it firsthand are often stunned at how the beautiful views seem to transport them to another era.
Baños del Carmen (Malaga)
Baños del Carmen, in Malaga, is a popular place for wedding photos! That's due in large part to its sunset views, which are believed to be some of the best in Europe. From here, travellers can see an infinite Spanish landscape, one that evn expands into the Mediterranean Sea. For a romantic day in Malaga, start with a day at Baños del Carmen Beach, enjoy an exquisite meal at Restaurant El Balneario (the views are to die for!) and take in a sunset you won't be able to forget.
Maro Beach (Nerja)
Maro Beach, in the municipality of Nerja, is known for its beauty. It's tucked in a hidden enclave between the Cliffs of Maro Natural Area and farmland, the latter of which holds the remains of an old Arab watchtower. With its wild charm and tranquil vibes, Maro Beach is an idyllic place to watch the sunset over the Alboran Sea.
Muelle Uno (Malaga)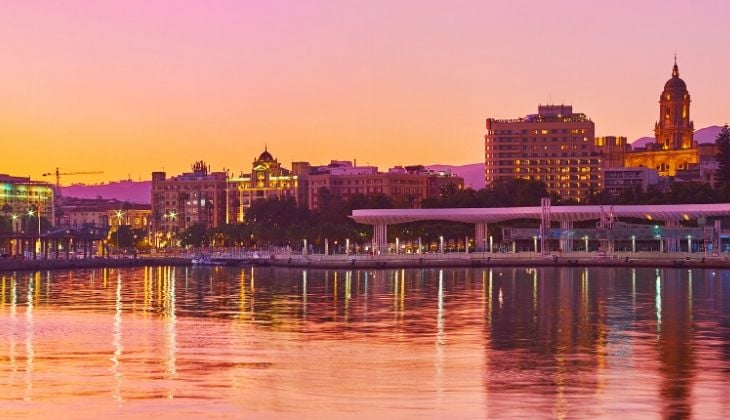 If you want to see one of the most beautiful sunsets in Malaga capital, go to Muelle Uno! This pier overlooks the Mediterranean Sea, Malaga's monuments and cityscape and countless boats and yachts sailing past. Stroll hand in hand to the famous Farola de Málaga—it's a lighthouse that has become an icon of the city—and grab a spot on a terrace with a cocktail, a glass of wine or even some ice cream. From there, you can watch the sunset and cap off another romantic day in Costa del Sol.
Mirador de Pocopán (Montes de Málaga)
One of the highest peaks in Montes de Málaga is Mirador de Pocopán—an extraordinary viewpoint with panoramic views of some of Costa del Sol's most well-known mountains and mountain ranges. They include: Jobo, Camarolos, Las Cabras, El Torcal de Antequera, La Axarquía and more.
Mirador del Faro (Torrox Costa)
Not far from the famous Lighthouse of Torrox, in Torrox, there is a viewpoint that looks like the bow of a ship. It has a transparent floor, enabling visitors to see the beach below. On top of that, the viewpoint is at a slightly higher altitude than the promenade below it, giving viewers a stunning vista of both the lighthouse and the Spanish coast at sunset.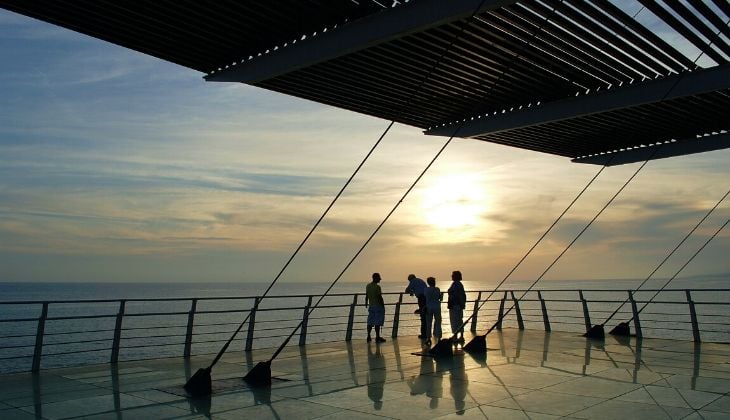 Las Murallas de Mijas Pueblo
Get a fantastic view of the sunset from the Walls of Mijas! Home to the remains of an Arab fortress, this site offers views of the Mediterranean coast between beautiful Fuengirola and Marbella.
These may be our favourite places to see the sunset in Costa del Sol, but they certainly aren't all of them. The province of Malaga is filled with stunning viewpoints, from its bustling cities and charming inland villages to its many, diverse beaches.

When you plan your romantic getaway to Costa del Sol, don't forget to plan time to catch one of these breathtaking sunsets! And to really round out your dream trip, find the perfect accommodations to host you during your stay. See you in Costa del Sol!