Do you dream of cruising the Mediterranean? (We don't blame you.) Seeing the world on a luxury ship that offers every amenity is a stress-free way to travel. Even if you love to fly, try a cruise at least once in your life and we're sure you'll find something you love about it. Malaga has become a popular place for many cruise ships to dock. And next time you cruise by it, there are some places you'll just have to get off the boat and see. Check out three day-long itineraries below, and start planning your visit. Happy cruising!

Historic, but modern Malaga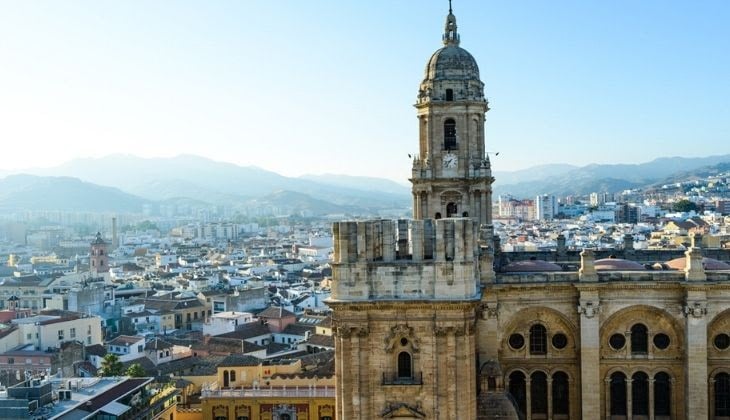 Malaga Cathedral
Let's start at the beginning: You have to see the capital of Malaga! Go here and experience its culture by seeing everything from monuments and a historic centre to its port and modern city streets. There are plenty of magical nooks and crannies to discover in Malaga. See Malaga Cathedral, The Alcazaba and streets like Císter and Alcazabilla, and then move one to historic squares like Plaza de la Merced and Plaza de la Constitución. Of course, the best way to see the city is to see it from above. Climb to the top of Gibralfaro Castle and you'll get a spectacular panoramic view of Malaga and almost all of Costa del Sol.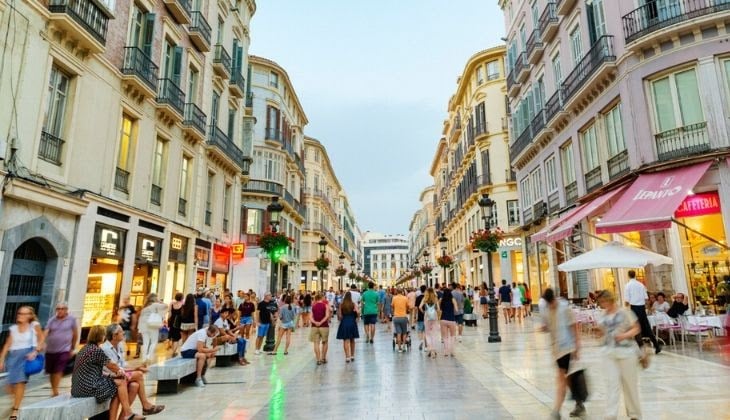 Calle Larios
While there, avid shoppers will want to saunter down the mythical Calle Larios and visit Muelle 1 at the port, an open-air shopping centre right next to the city's cruise ship terminal. This is one of the most fashionable areas of Malaga and is home to a variety of shops and restaurants. If you love art, don't miss one of the city's most famous contemporary art museums: Centre Pompidou. From there, visit Palmeral de las Sorpresas, a space filled with palm trees, beautiful plants and pathways for relaxing strolls along the shores of the Mediterranean Sea. Visit our blog for more tips about what to see and do during your day in the city of Malaga.
Exclusive Malaga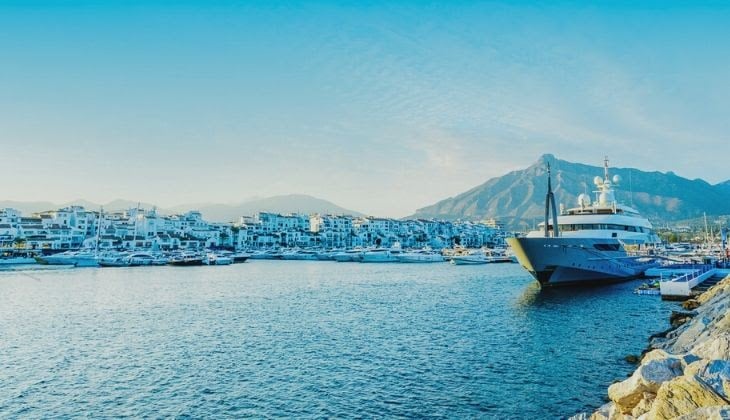 Puerto Deportivo José Banús, Marbella
Costa del Sol can also be a top luxury destination for those who want one. If that's you, once your ship docks in Malaga, rent a car and drive to Marbella, which is less than an hour away. (It's the epicentre of luxury in Costa del Sol!) Along the way, you'll see a rolling landscape of beautiful golf courses and exceptional white villas, all in front of a backdrop of the deep blue Mediterranean Sea.
Bask in the sun on Marbella's glorious beaches, like El Cable or Artola - Cabopino, or head to one of the exclusive beach clubs on Real de Zaragoza Beach or Los Monteros Beach. Just before sunset, take a walk down the so-called "Golden Mile" of Marbella and Puerto Banús, where you'll see luxury boutiques, fancy cars and yachts sailing past you everywhere you look.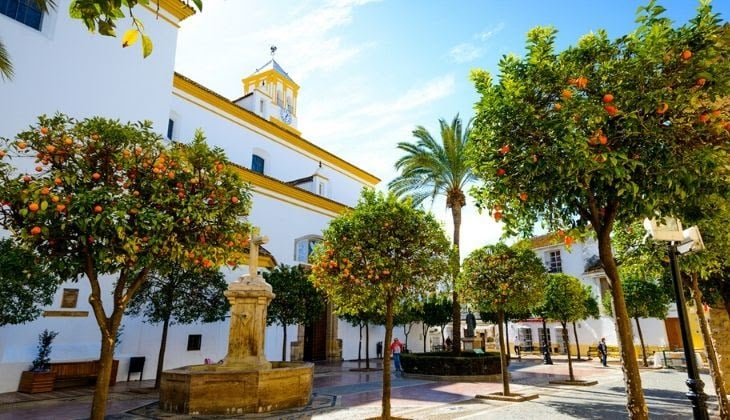 Of course, Marbella is more than just a luxury destination, and it's worth your time to visit its Old Town. Wander down its narrow alleyways, visit traditional shops, take in the Arabic architecture and visit one of the terrace restaurants overlooking Plaza de Los Naranjos to enjoy an aperitif or a local tapas dish. For a taste of haute Mediterranean cuisine, the two-Michelin star Skina Restaurant is just nearby, in the heart of the city. Visit our blog for more tips about what to see and do during your day in Marbella.
Malaga's charming interior
Looking to get off the beaten path? Explore the more traditional interior villages of Costa del Sol. Mijas, for example, which is bordered by the sea on one side and the mountains on the other, has something for everyone.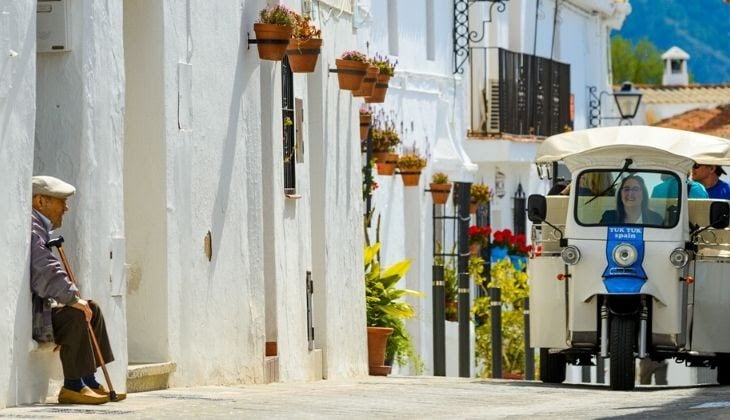 Visit the old town of Mijas, which has been recognized as a Historic-Artistic Site, and see its famous Gardens and Viewpoint—it has the remains of an old fortress that Mijas was built on top of. From this viewpoint, you'll get one of the most impressive panoramic views of Costa del Sol. While there, see the Mijas bullring, the entrance of which sits in a typical white house and has an oval-shaped door, something that is very rare in Spain. You'll get a sense of Mijas' past as you walk through it, especially when you pass the Chapel of the Virgen de la Peña (which was excavated in the 16th century) and the Church of the Immaculate Conception (which was built on top of an old mosque).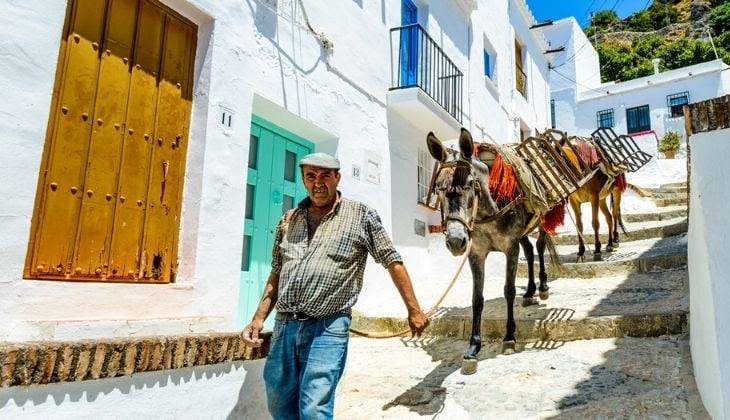 Still looking for something more special? Head farther into the interior of the province to Frigiliana, which is located in Sierras de Tejeda, Almijara and Alhama Natural Park and is one of the most beautiful municipalities in Malaga. This part of Costa del Sol is popular for its white houses, its tasty cuisine and its unique, Moorish past.
With its impressive natural beauty, wealth and uniqueness, Ronda is another popular enclave in Malaga. This Historic-Artistic Site destination is less than an hour and a half by car from Malaga and is a favourite amongst locals and travellers alike.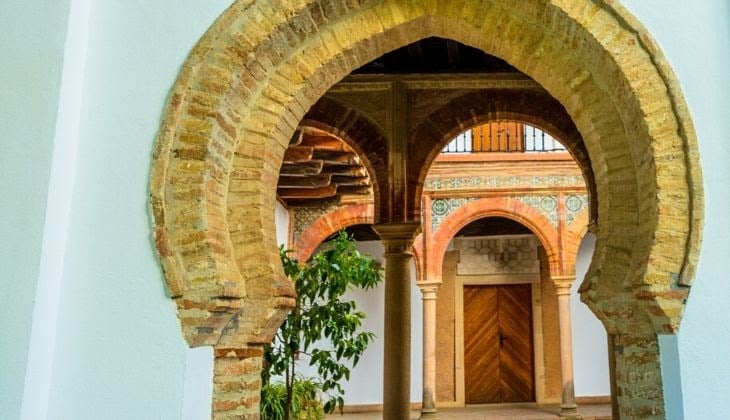 The Mondragon Palace, Ronda
Costa del Sol attracts visitors from all over the world for its luxury, tradition, gastronomy and culture. If you're cruising by the region, you'll have to decide which part of it you want to see! The province of Malaga is always ready for visitors—so if you don't get to see it all on your first trip, you'll just have to come back to Costa del Sol again.