Marbella is a top destination for culture, leisure and glamour, and it's a Mediterranean city known for its exclusive, romantic atmosphere. With over 20 kilometres of coastline, four marinas, a slew of dreamy beaches, gourmet restaurants (perfect for candlelit dining!) and a mild climate all year long, Marbella is an ideal destination for a romantic luxury getaway.
Why Marbella?
Visiting Marbella is a unique experience, one with luxury in every corner. Whether you're shopping its exclusive boutiques, dining in one of its distinguished restaurants or spending an afternoon at one of its raved-about beach clubs, the possibilities for indulgence in Marbella are endless. This city has everything you could ever need or want on your couples getaway.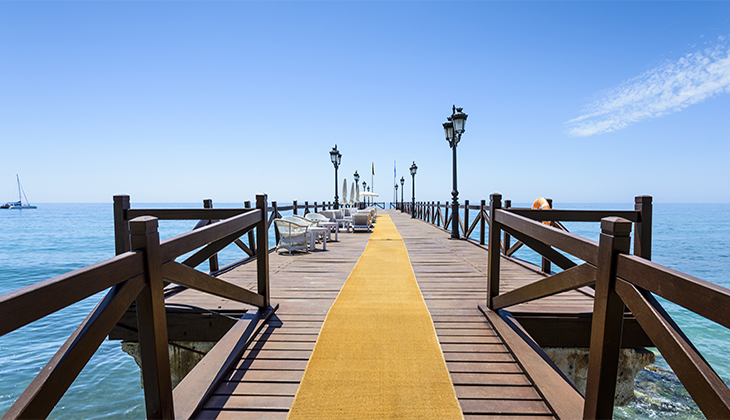 Tour the historic centre of Marbella
Without a doubt, Plaza de Los Naranjos is an icon of Marbella, and it's a popular place for locals and visitors alike to grab a drink on a beautiful terrace and enjoy the views. Marbella's Old Town is full of charming white houses covered in flowers. Just nearby, you'll discover historic buildings worth visiting, like the hermitage of Santiago, Town Hall and Casa del Corregidor, the latter of which was built between the 15th and 16th centuries.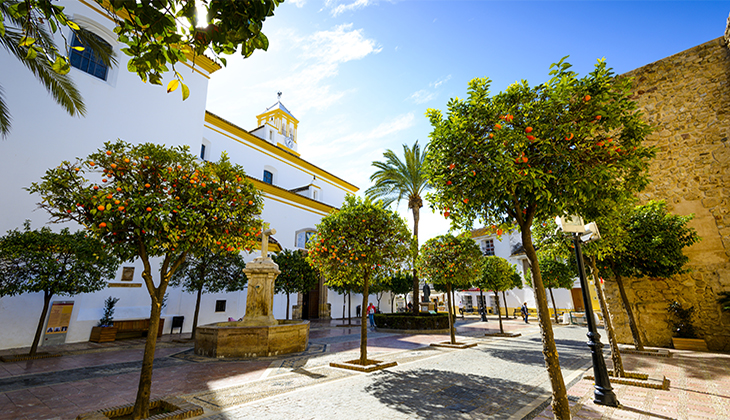 In addition, the Old Town of Marbella still has the preserved remains of an Arab castle and the wall that once surrounded the city during its Muslim era. Bazán Hospital is home to the headquarters of the Museum of Contemporary Spanish Engraving and includes works by Picasso, Miró, Tapies and Chillida. Another place to see, the Bonsai Museum, has one of the most complete bonsai collections in all of Europe. Other spots you don't want to miss? The Cortijo Miraflores cultural center, the Oil Museum (housed in a 1704-built home), the Ralli Museum (which is dedicated to the dissemination of Latin American and European contemporary art) and Avenida del Mar (which houses a collection of bronze sculptures by Salvador Dalí).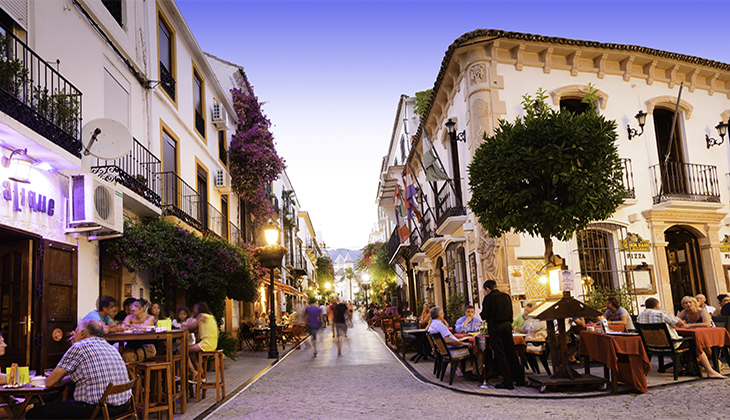 Walk through Puerto Banús
You can't go to Marbella without strolling through the streets of the waterfront Puerto Banús. If you're there during the day, pop into its glamorous shops, look at the luxurious yachts anchored in port or eat and drink at one of its exclusive restaurants.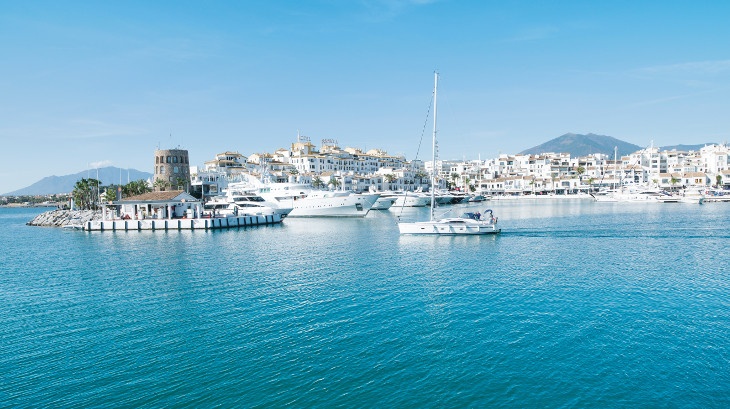 At night, go here to experience the majority of Marbella's nightlife, which includes a mix of nightclubs, restaurants, pubs and bars that are open until the wee hours of the morning.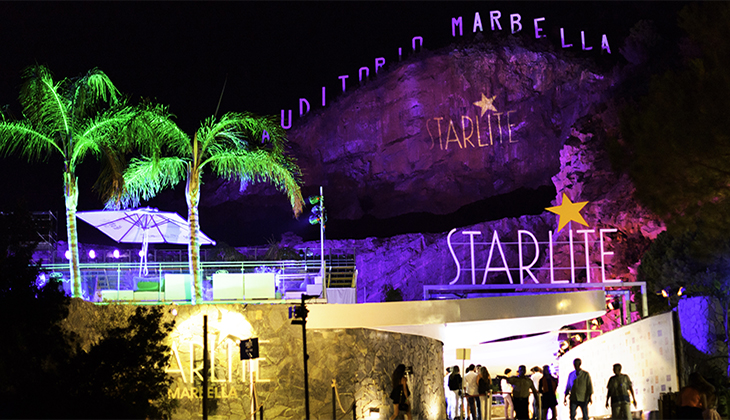 The best beaches in Marbella
A romantic getaway to Marbella must include time on its fabulous beaches! Go here to relax, enjoy the pleasant Malaga climate, drink champagne on a Balinese bed at one of Marbella's exclusive beach clubs or eat the local fried fish at a beach bar with your toes in the sand. Las Chapas Beach is famous for its golden sand and calm waters. Looking for something even more romantic and tranquil? Head to Artola-Cabopino Beach, Cortijo Blanco Beach or Venus Beach.
Marbella, the golf paradise
It is no coincidence that the Costa del Sol is also known as "Costa del Golf". The province of Malaga has more than 70 golf courses, 16 of which are in Marbella. The climate, the landscape and the excellent services offered make the Costa del Sol a perfect destination for you to enjoy this sport as you've always dreamed. In Marbella, golf lovers will find a sea of luxurious golf clubs, some of which are even connected to luxury hotels, wellness centers, spas and other sporting facilities, like tennis courts or paths for horseback riding. On top of that, every golf course in Marbella offers spectacular views of the Mediterranean Sea.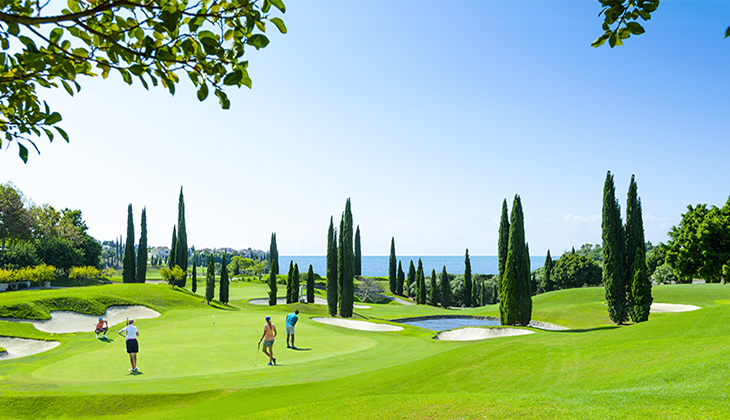 Fine dining in Marbella
Marbella is the epicentre of dining in Costa del Sol. This city attracts people from all over the world, most of whom have to reserve tables at the city's best restaurants weeks (or even months!) in advance. Foodies will love Marbella's delicious food and cool restaurant scene. When you go, try Japanese cooking at Ta-Kumi, get local Andalusian cuisine at places like Lobito de Mar and Bibo (both by chef Dani García) or snag a table at the famous two-Michelin-starred Skina, by Marcos Granda.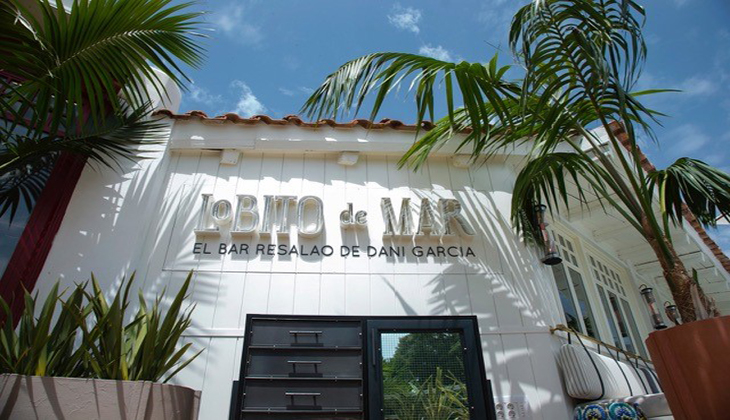 Marbella luxury hotels
Treat you and your special someone to a romantic weekend in a stunning hotel! Marbella is filled with a sea of top-level luxury hotels, including Anantara Villa Padierna Palace (which is inspired by the Tuscan landscape and has a 2,000-square-metre wellness centre), the indulgent Puente Romano Beach Resort Marbella (which has stunning pools you won't want to leave) and the seafront Gran Meliá Don Pepe (which looks out onto Sierra de las Nieves Natural Park). Designed with relaxation in mind, Marbella is home to 20+ spas, spa hotels and thalassotherapy centres where you can take care of yourself from the inside, out.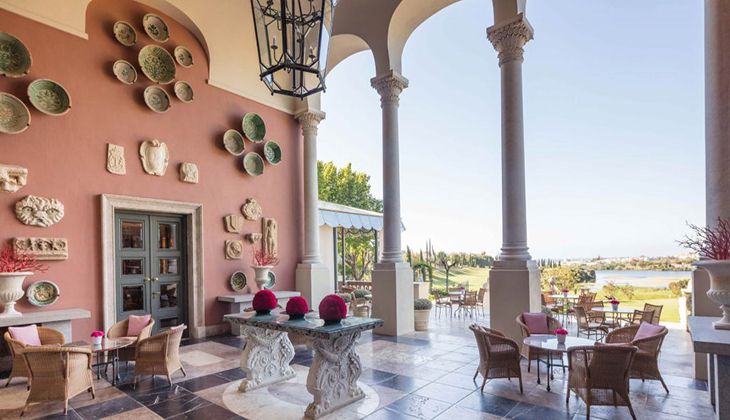 Glamorous Marbella is filled with hotels, restaurants, beaches, shops, streets, squares and ports for all to enjoy. Planning a romantic getaway with your special someone? Marbella is just the place! Book your hotel and enjoy a luxury escape like you've never had before.