La Cala Resort is just 20 minutes from Marbella and 30 minutes from Malaga airport. Located in Mijas Costa, the resort is swept up in the midst of nature and nestled away from the hustle and bustle of the town. This luxury resort is a little slice of paradise for golf lovers as it has no fewer than three golf courses complete with full spa, restaurants, bars, event rooms and a number of sports facilities. If your thoughts are starting to turn to your next golf getaway, make sure you consider La Cala Resort in Mijas. Keep reading to find out why.
Snuggled between the coast and the mountains, the hotel has a quintessentially Andalusian design and sits in magnificent grounds. It has a total of 107 guestrooms with five categories, and balconies and terraces that afford beautiful vistas over the golf courses. All of the guestrooms have been recently renovated to cater to all your creature comforts.
With three 18-hole courses designed by Cabell Robinson, La Cala Resort is one of the biggest golf resorts in Andalusia. To make sure you completely unwind during your time here, there is a luxury spa, with a total surface area of 1,300m², that offers a wide variety of treatments. In terms of dining, you won't be short on choice with a selection of bars and restaurants that each have their own culinary focus. La Terraza restaurant serves up Andalusian and international cuisine, La Bodega is an informal tapas bar-restaurant, Naranjo is a bar with a pretty patio and fountain that is lit up by candles after sunset, and Limonada is the poolside bar.
The golf courses at La Cala Resort in Mijas
As we mentioned before, La Cala Resort in Mijas has three golf courses named Campo America, Campo Asia and Campo Europa.
Campo America
La Cala Resort's Campo America is a 6,009m long par-72 course. Five of the holes are par 5s. Formerly known as the North Course, it affords spectacular views over the Sierra de Ojén mountainscape and the Mediterranean. This is a wide course with few bunkers, making it relatively easy. The biggest challenge it poses is its mountainous topography with brush-covered slopes and small raised greens, which requires careful club selection. There are water obstacles at holes 9 and 16.
Campo Asia
Campo Asia is a 5,925m course for a par of 72. Previously known as the South Course, this is the most historic course at La Cala Resort, and also the most challenging, making it a favourite among golf pros. It has narrow and short fairways and four par-5s which require great skill, particularly in the short game. Some of the most testing holes on Campo Asia are number 10, which has a classic design, and numbers 3 and 14 with their hazards, as well as 5 and 18. The way you play these holes will determine the outcome of your scorecard.
Campo Europa
6,014m long, Campo Europa is a 71-par course. It is a bit wider than the other two courses at La Cala Resort. With generous fairways and flatter terrain, it is an ideal course for the average golfer. It is defined by its main bridge, in addition to another four, which cross the river Ojén. If you're using a buggy, you can take the tunnels. Hole 14 is at the maximum limit of a par-3, at 233m. Hole 11 is the longest hole, a par-5 coming in at 524m.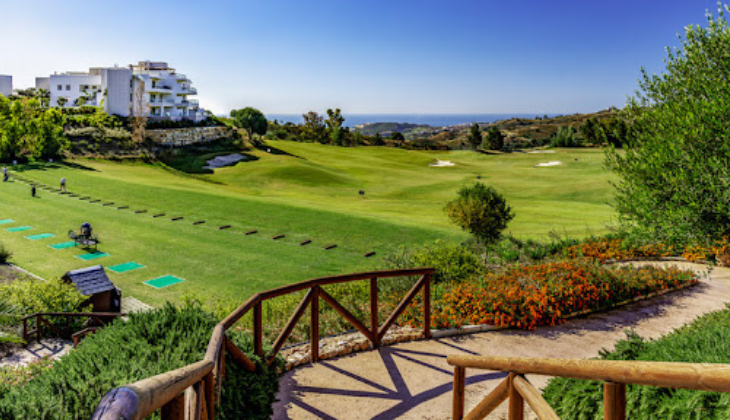 The golf academy, a great draw
This is arguably the golf academy with the best views in the Costa del Sol. The tee line affords visitas over the Mediterranean meaning that each ball you hit with your iron or wood will head towards the sea. There is a well-equipped golf store and two boxes for club fitting where you can try out various brands to get the equipment that is best tailored to your game. Whether you're a beginner or an experienced player, Fabián Lozano and Murdo McCorquodale will help you work on your game as you benefit from the latest technology and the extensive facilities: the long game area, approach area, bunkers and putting green. The Academy also specialises in teaching children, using McCorquodale's fun and effective technique.
La Cala Resort in Mijas offers spectacular scenery to enjoy golf at its very best. Beyond the three impressive golf courses, you can spend your time off the fairways on beautiful beaches and spectacular mountains where you can lap up the fresh air. The resort is also just a stone's throw from other destinations in the Costa del Sol, such as Marbella, where you can enjoy your down time. La Cala Resort is an excellent choice for golf lovers that want to combine great sport, relaxation, gastronomy and more in their getaway.