See animals in their natural habitat, go horseback riding, try different adventure sports, bathe in a beautiful water reservoir or go on a multi-adventure trail. When you're in the countryside of Costa del Sol, you can do all of this and more! To make it extra special, bring the kids and stay in a country house. There are plenty to choose from all over the province, but you'll find some of our favourites below.
Cortijo La Bodega - Benaoján
Ready to immerse yourself in Mother Nature? When you go to the countryside with children, a great place to stay is Cortijo La Bodega. Located in Benaoján, it's tucked between three natural parks: Sierra de las Nieves, Los Alcornocales and Sierra de Grazalema, in front of the famous Cueva del Gato. Cortijo La Bodega is built in a restored cellar and has a beautiful landscaped patio, a swimming pool, amazing views, and plenty of space for all to enjoy. (There are eight bedrooms, four bathrooms, two living rooms, two full kitchens, a barbecue, parking and even a children's play area.)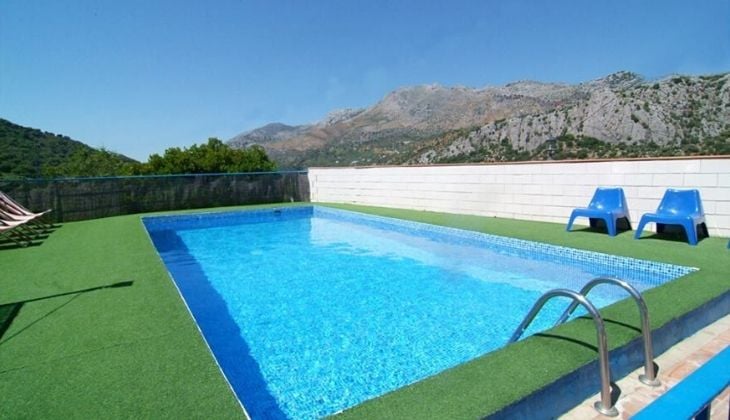 Source: Cortijo La Bodega
Alojamientos Huétor – La Viñuela
Sitting on the shores of the La Viñuela Reservoir, just 15 minutes from the beach, Alojamientos Huétor is another wonderful place to stay when you're in Malaga's countryside with children. Here, you can enjoy both the rural and coastal parts of Costa del Sol. There are eight houses onsite, and all of them have great views of the reservoir and its surrounding Sierra Tejeda Natural Park. Each house has two large bedrooms, a living room, a fully-equipped kitchen, a terrace with a barbecue, a fireplace (for cold winter nights) and a large swimming pool.
Source: Alojamiento El Huétor
Casa Domingo - Álora
Casa Domingo, in the municipality of Álora, is a unique enclave on the edge of a hill with magnificent views of vast wheat fields. Nearby, Desfiladero de los Gaitanes Natural Area and Caminito del Rey promise a fun-filled day outdoors, and if you stay at Casa Domingo for more than four nights, your admission is free! In addition, this country house offers guided hiking trails, a range of accommodation options to suit different travellers, a swimming pool, a tennis court and anything else you need to make the most of your family holiday.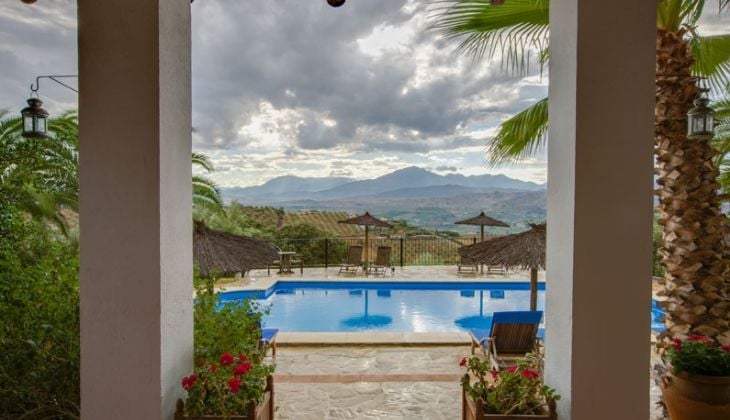 Source: Casa Domingo
Huerta de Nicolás – Alozaina
Not far from the Sierra de las Nieves mountains, and just one kilometre from the town of Alozaina, Huerta de Nicolás offers exceptional views of Guadalhorce Valley. Plus, it's packed with family hiking trails! The house has five bedrooms and three bathrooms spread over two floors, with a spacious living room, a fireplace, a large kitchen, an outdoor barbecue and a serene pool surrounded by nature.
Source: Casa Rural Huerta de Nicolás
Cortijo Era de Realenguillo – Villanueva de la Concepción
In the municipality of Villanueva de la Concepción, just a few kilometres from the El Torcal de Antequera Natural Area, Cortijo Era de Realenguillo is an Andalusian-style country house that's perfect for children. With room to accommodate up to eight people, it has three bedrooms, two bathrooms, a kitchen, a living room with a fireplace and a saltwater pool, perfect for those hotter Costa del Sol days! The location of this house is ideal if you love a few days in Mother Nature. There are plenty of hiking and nature trails for all ages, and a slew of wild birds, like griffon vultures and eagle owls, that kids will love to see.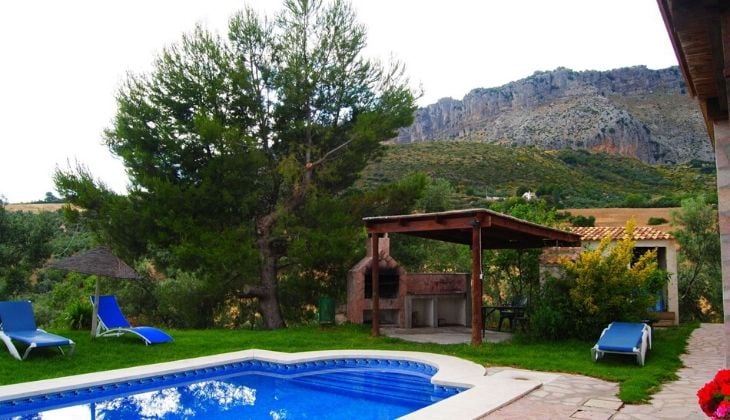 Source: Cortijo Era de Realenguillo
La Molineta de Guaro - Guaro
With its close proximity to both the Mediterranean Sea and the mountains (it's perched in the Sierra de las Nieves mountains, but is very close to the beaches of Marbella!), La Molineta de Guaro is a great country house for all types of families. Houses come fully equipped with a living room, a kitchen and a private garden with a BBQ and swimming pool, and popular activities there include horseback riding and hiking.
Source: La Molineta de Guaro
We love the country homes highlighted above! How about you? If you're planning a trip to the Spanish countryside with children, book one of these many options and start planning your trip. Looking for something else for your family getaway? Don't worry—there are plenty of accommodations to choose from in Costa del Sol. Either way, you're promised fresh air, beautiful views and a weekend in Mother Nature when you visit the Malaga countryside with children.