If you love getting active and exploring impressive parks and natural havens together, the province of Malaga will provide a spectacular backdrop for your family sports holidays. Get a pen and paper at the ready and discover the best activities to get out into the great outdoors in the Costa del Sol.

Hiking

Hiking is one of many families' favourite ways to get active together. And it's no surprise, as there's nothing better than walking through spectacular natural areas with your nearest and dearest. Throughout the breadth and depth of the province of Malaga there are many beautiful hiking trails surrounded by awe-inspiring landscapes. The most popular are La Gran Senda and La Senda Litoral. The former comprises a series of connected stages running across the province, passing through villages and impressive wilderness. As you walk La Gran Senda you will see unique scenery, such as Sierra de las Nieves natural park and Sierra de Tejeda, Almijara and Alhama, among others. La Senda Litoral passes through the 14 municipalities flanking the coastline of the Costa del Sol, spanning almost 200 kilometres from Balcón de Europa in Nerja to Castillo de la Duquesa in Manilva. An easy yet stunning route to walk with children is Torcal de Antequera, which will leave your little ones gaping as its impressive karstic formations.
Caving
If you like the taste of adrenaline, there's nothing better than trying your hand at some family adventure sports, such as caving. Though you may not know this, Malaga is home to the largest concentration of caves in southern Europe. The area surrounding Ronda alone boasts over 10 kilometres of underground wonders. The Costa del Sol has some wonderful areas where you can go caving, such as Cueva del Gato, in Benaoján, or the famous Cueva de Nerja. If you're feeling brave, we recommend visiting Cueva del Tesoro, in Rincón de la Victoria: one of just three caves in the world, and the only one in Europe, to be formed by the sea. Cave paintings were found inside and, according to legend, there's a hidden treasure in the cave. Fancy trying to find it?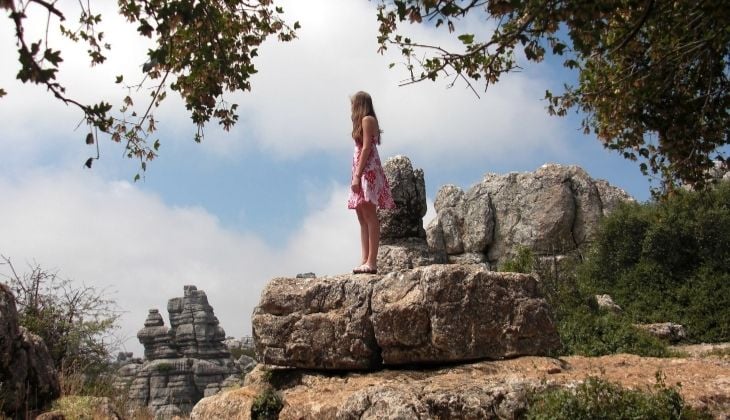 Cycling
Getting on the saddle and pedalling your legs is a wonderful way to spend time together as a family. The Costa del Sol has a whole range of cycling routes ready and waiting to take you along the coast, into the mountains, through natural havens and across the towns and villages dotting the province. You will find hundreds of kilometres of cycle lanes here so you can enjoy the adrenaline pump in total safety. A great example is Serranía de Ronda with its spectacular scenery you can soak up from your bike. Sierra Norte, in Nororma county, is another great area for cyclists. There are a total of 7 mountain biking routes featuring a whole host of ascents, plains, evergreen oak woods, springs, rivers and marshland where you can complete your ride with a refreshing dip. What's more, La Gran Senda de Malaga is also the perfect option for a day out on your bikes.
Kayaking and paddle surfing
One of the main attractions of the Malaga coastline is its wide selection of activities for lovers of water sports. And if that weren't enough, the area is defined by spectacular natural scenery, such as the stunning cliffs at Maro - Cerro Gordo in Nerja. This irresistible beauty spot will treat your eyes to an impressive vista and provides the perfect conditions for water sports like kayaking (perfect if you've got young kids) and paddle surf (a fun activity for older children).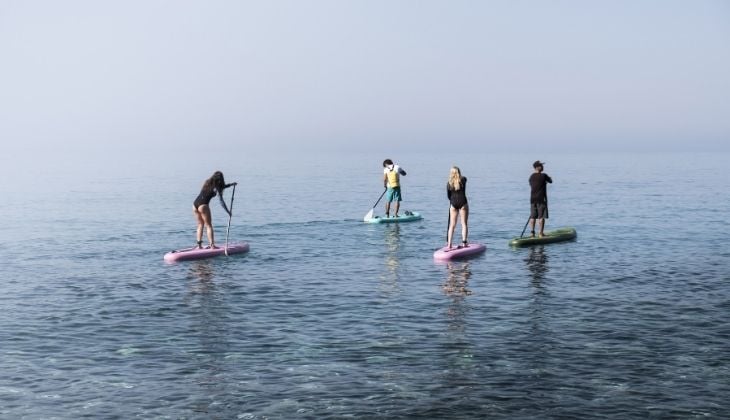 Golf
Whether you're obsessed with the sport or you just fancy learning how to hit the ball, playing golf as a family is a great way to spend your next holiday together. With over 70 golf courses, the Costa del Sol, also known as the Costa del Golf, is one of golf players' favourite destinations in the world thanks to its desirable climate, that enables you to play all year round, as well as its incredible courses and golf academies.
Horse riding
Horse riding is another excellent way to get the very best out of the great outdoors during your family sports holidays. The province of Malaga boasts a long tradition of Andalusian horses and there are a large number of equestrian centres on the Costa del Sol. These centres offer all sorts of activities for all the family, such as hacks, excursions, riding classes and horse shows.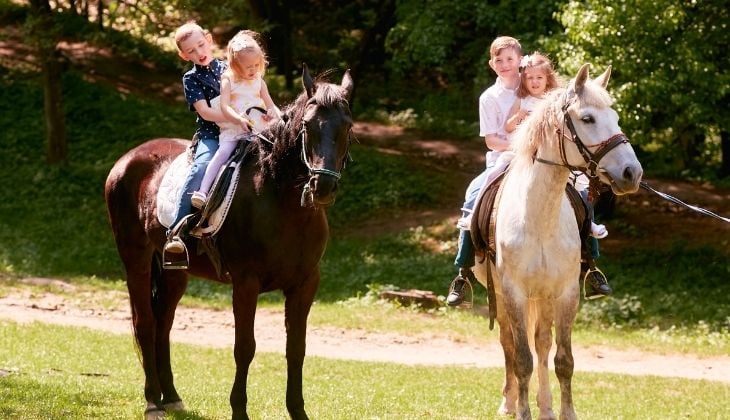 Alongside the best family sports holidays we have listed above, the Costa del Sol will delight you with its wide range of leisure activities for all the family. Child-friendly hotels, amusement parks, zoos, museums, beaches and charming villages await in the province of Malaga so you can make the family holiday you've dreamt of a reality at any time of the year.