Travellers from around the world already know that the Costa del Sol boasts an absolutely privileged climate. But perhaps, not so well known is the fact that, in the eastern part of the Costa del Sol, in the Axarquia region, there is a place that has some even more idyllic weather conditions: we are talking about the municipality of Torrox.
A paradise called Torrox
With a spectacular scenery, towns full of charm, fantastic beaches and 300 days of sunshine a year, the Costa del Sol has the power to make travellers into residents. In fact, thousands of tourists who chose Malaga's coast as a holiday destination have finally chosen it as their place of habitual residence. And certainly, Torrox is one of those preferred destinations. Approximately 40% of its population comes from outside our borders.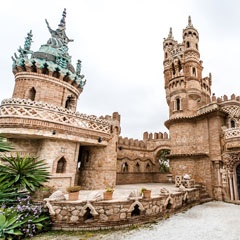 Get to know the most amazing spots on the Costa del Sol
Its paradisiacal climate is explained by a perfect combination of factors. The municipality is located in the Torrox River Valley at the foot of the Sierra de Almijara and in slight descent to reach the sea. Therefore, Torrox is protected by the mountains from winds that can prove bothersome and, in turn, it is exposed to the pleasant sea breezes. Can you imagine enjoying an average annual temperature of 18 degrees?
The municipality of Torrox also extends through a suggestive subtropical environment, resulting in two villages, each with its advantages. Torrox village is typical Andalusian town whose whiteness illuminates the landscape, while Torrox Costa is a fantastic residential nucleus in the beach area.
And besides having the best climate in Europe, Torrox offers the possibility to enjoy an unsurpassed quality of life. Benefits, such as the Mediterranean diet, tropical fruits of its fields, the way of life of local people, their customs and traditions, the hospitality of this land... All this makes Torrox a small paradise within a larger one: the Costa del Sol.