Once again, this year the beaches in the Costa del Sol have been recognised for their excellence. Superb environmental management, countless services and quality waters have seen 36 beaches in the province of Malaga be awarded the Blue Flag in 2022, contributing to Spain being the country with the most Blue Flags in the world, with a total of 615. Keep reading to discover the Blue Flag beaches in the Costa del Sol.
Blue Flags in eastern Costa del Sol: Nerja - Torrox - Algarrobo - Vélez-Málaga
We're going to start this post in the eastern part of the Costa del Sol. The first destination you'll come across is Nerja, a town straddling inland La Axarquía with the Mediterranean Sea which has been awarded no fewer than three Blue Flags for Burriana beach, Torrecilla beach and Maro beach, which is new this year.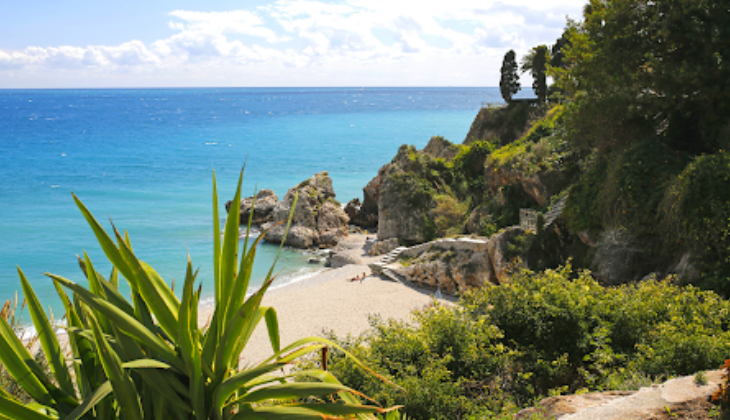 Sitting next to Nerja on the coastline is Torrox, a destination whose tropical weather is renowned as the finest in Europe. Torrox offers its very own slice of Mediterranean paradise at Ferrara beach and El Morche beach, both of which had a Blue Flag last year as well.
Just along the coastline, Algarrobo's Algarrobo Costa beach has also retained its Blue Flag this year. Vélez-Málaga has kept its three Blue Flags at Benajarafe beach, La Caleta beach and Torre del Mar beach, which is over 2,000m long and offers playgrounds and all sorts of services, making it ideal for a family day out at the beach. All these beaches are in La Axarquía, a beautiful region sprinkled with areas of natural beauty, whitewashed villages, delicious local cuisine and artistic heritage. A destination that offers the best of the coast and the inland.
Blue Flag beaches in Malaga city
The capital of the Costa del Sol has no fewer than seven Blue Flags awarded by the Foundation for Environmental Education (FEE). You will see flags waving in the sea breeze at La Caleta, El Dedo, El Palo, La Malagueta, La Misericordia, Pedregalejo and San Andrés beaches.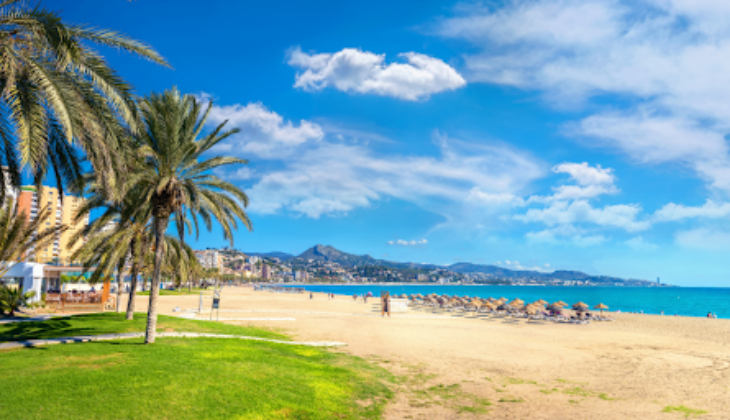 Blue Flag beaches in western Costa del Sol: Torremolinos - Benalmádena - Mijas - Fuengirola - Marbella - Casares - Manilva
Moving westward, you'll come across Los Álamos beach in Torremolinos, which is the perfect place to do some water sports and unwind with a glass of something refreshing at the chiringuitos and beach clubs lining the seafront promenade. Pretty Fuente de la Salud beach in Benalmádena will work wonders for your wellness while Torrebermeja – Santa Ana has got palm trees lining the sand. With its picturesque whitewashed houses nestled into the mountainscape, Mijas makes a spectacular backdrop to three Blue Flag beaches: La Calahonda (also known as Royal Beach La Luna), El Bombo and La Cala, which is arguably one of the best beaches in Andalusia. Fuengirola boasts a total of four Blue Flag beaches, namely Boliches-Gaviotas, Carvajal, Fuengirola and Castillo. All of these offer a wide range of services and leisure activities, making them ideal for families.
The glamorous destination of Marbella has seven Blue Flag beaches. From the impeccable urban beaches of Casablanca to El Faro with its exclusive beach clubs, Guadalmina in San Pedro de Alcántara (a great option for families), El Cable, Puerto Banús – Levante, Venus-Bajadilla and Adelfas-Alicate, which is a new Blue Flag beach this year.
This list of the Blue Flags in Malaga province closes with Ancha beach in Casares and Sabinillas, a beach with calm waters that received a new 'Oscar of the Sand' award in 2022.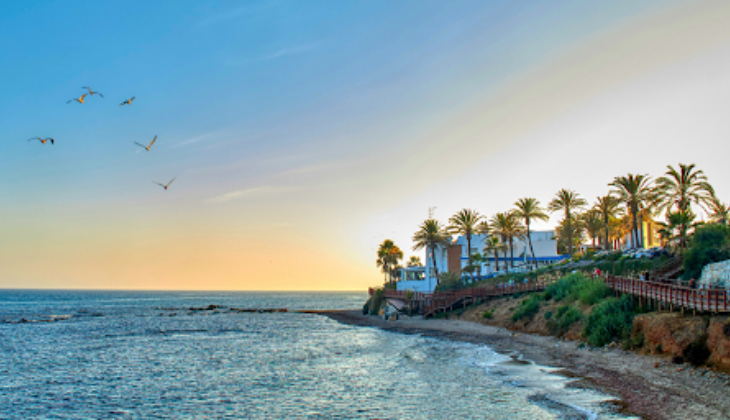 The first inland beach in Andalusia
The municipality of Ardales has got something to be proud of: it is home to the first inland beach in Andalusia to receive the Blue Flag. We're talking about Conde del Guadalhorce reservoir, which is popularly known as El Chorro.
Situated 600m from Caminito del Rey, the reservoir is an inland tourist attraction that draws in swimmers keen to take a dip in the embrace of mother nature. Beyond swimming in the clear waters, you can also enjoy exploring the different parts of the reservoir or doing activities here.
Blue Flag marinas
The province of Malaga has six marinas that have been awarded the Blue Flag, namely Benalmádena, Caleta de Vélez, Estepona, La Duquesa (Manilva), Marbella and José Banús (which is also in Marbella and new this year). Two sustainable boating tourism operators have got the Blue Flag in Benalmádena.
Over 160km of coastline and 36 Blue Flags await in the 14 coastal municipalities stretching from Manilva to Nerja in the Costa del Sol. Over 320 days of sunshine a year and average annual temperatures of 20 degrees make the Malaga coast a dreamy destination for beach lovers.