For yet another year, the beaches in the Costa del Sol have been recognised for their excellence. Great maintenance, a wide selection of services, and the quality of the water have meant that the province of Malaga has a total of 39 Blue Flags in 2023, adding to the 627 Blue Flag beaches Spain holds so far, the most of any country. Shall we take a look around the province on an exploration of the Blue Flag beaches in the Costa del Sol?
Blue Flags in the eastern part of the Costa del Sol: Nerja - Torrox - Algarrobo - Vélez-Málaga
Starting in the eastern part of the Costa del Sol, the first municipality you'll come across is Nerja, a destination where the inland region of La Axarquía meets the Mediterranean Sea. The municipality has four Blue Flags to its name: Burriana beach, Torrecilla beach, El Playazo beach and - new this year - Maro beach.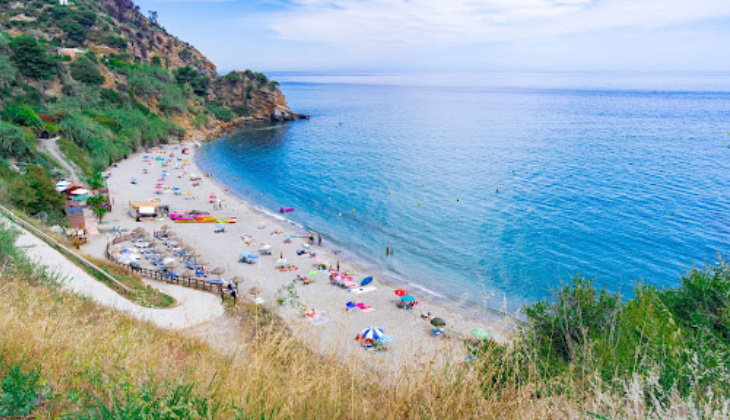 Source: Andalucía Viajes
Continuing along the coast from the star of the TV show Verano Azul, we find ourselves in Torrox, with its exceptional tropical weather, which is said to be the best in Europe. This seaside paradise is home to Ferrara beach and El Morche beach, both of which received the award for another year.
Next to Torrox, Algarrobo's beach Algarrobo Costa has also kept hold of its Blue Flag in 2023. Vélez-Málaga maintains its three Blue Flags for Benajarafe beach, La Caleta, and Torre del Mar beach, which is over 2,000m long, has a great range of services, and children's play areas, making it perfect to enjoy with the family. All the beaches are situated in La Axarquía region, an ideal destination to appreciate the natural landscapes, white-washed villages, magnificent local cuisine, and extensive artistic heritage. A great fusion of the inland and the coast.
Blue Flags in Malaga capital
The capital of the Costa del Sol has no fewer than seven Blue Flags. Caleta, El Dedo, El Palo, Malagueta, Misericordia, Pedregalejo and San Andrés beaches proudly wave their Blue Flags - awarded by Asociación de Educación Ambiental y del Consumidor (ADEAC) - for another summer.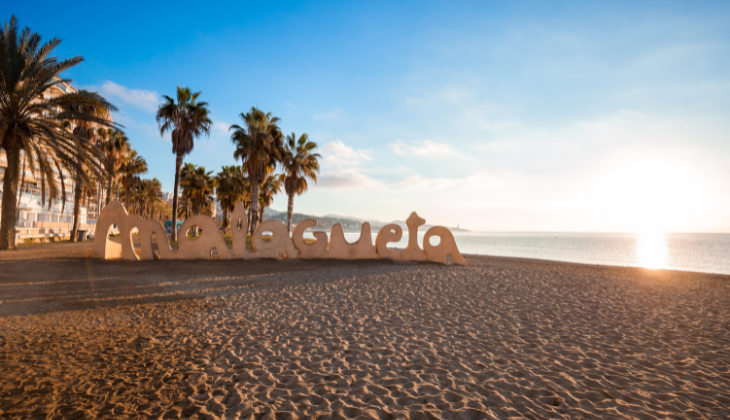 Blue Flags in the western part of the Costa del Sol:
Torremolinos - Benalmádena - Mijas - Fuengirola - Marbella - Casares - Manilva
Towards the west of Malaga city, one of the first beaches you'll reach is Los Álamos in Torremolinos, which is the perfect place for doing some sports or relaxing in one of the chiringuitos (beach bars) or beach clubs on the seafront promenade. Charming Fuente de la Salud beach in Benalmádena, honours its name by being a real paradise where you can recharge your batteries, while Torrebermeja - Santa Ana beach has palm groves lining the sand. The beautiful town of Mijas, with its picturesque white-washed houses nestled in the mountain, promises superior scenery. As well as the famous Calahonda beach (Royal Beach La Luna) and El Bombo, La Cala has been recognised, once again, as one of the best beaches in Andalusia. And this year, El Chaparral - one of the largest beaches in the area - has been granted a Blue Flag for the first time. Fuengirola is also on the list, with four beaches: Boliches-Gaviotas, Carvajal, Fuengirola and Castillo, all equipped with services, a wide range of leisure activities and the perfect place for a family holiday.
Marbella, one of the most glamorous destinations in southern Spain, has two new Blue Flag beaches this year (La Fontanilla and Nagüeles). With a total of nine beaches boasting the award, the destination is in first place in the Blue Flag ranking for the whole of Andalusia. Marbella has impeccable urban beaches of Casablanca and El Faro with their exclusive beach clubs, not to mention beaches like Guadalmina in San Pedro de Alcántara (which makes an ideal choice for a family day out), El Cable beach, Puerto Banús – Levante beach, Venus-Bajadilla beach and Adelfas-Alicate beach, which was awarded the Blue Flag in 2022 and held onto it this year.
The Blue Flag ranking in the province of Malaga concludes with Ancha beach in Casares and Sabinillas beach, defined by its peaceful waters, which has maintained the 'Oscar de la arena' it was first awarded last year.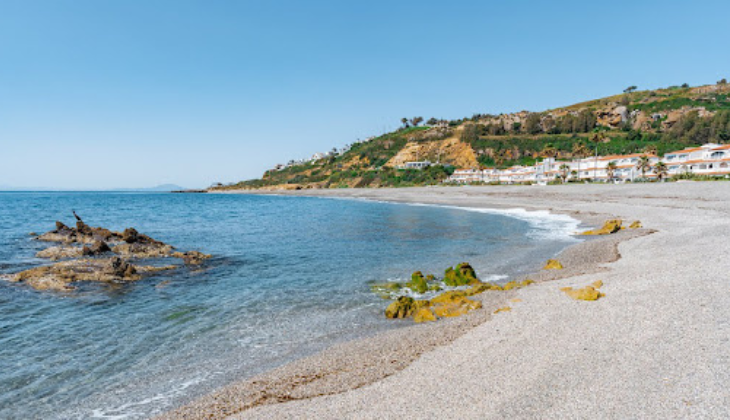 Source: Andalucía Viajes
Blue Flag Marinas
The Costa del Sol has six Blue Flags for its marinas, namely Benalmádena, Caleta de Vélez, Estepona, La Duquesa (Manilva), Marbella and José Banús marina, which is also located in Marbella. And if all that weren't enough, it has two awards for sustainable boats in Benalmádena: Catamarán Magic Vision and Starfish II.
Beyond the 39 Blue Flags, the Costa del Sol offers over 160km of coastline stretching from Manilva to Nerja, passing through 14 seaside municipalities. Over 320 days of sunshine a year and average temperatures around 20°C turn the Malaga coastline into a dream destination for lovers of the beach and sea-based activities. Water sports, cultural activities, sights of interest: if you love the sea, the Costa del Sol will blow you away with all its heritage, culture and tourist experiences. Discover everything you can get up to as you enjoy the Mediterranean as part of the Senda Azul project.