Malaga is the city chosen by thousands of young people every year as a place to learn Spanish. The excellent weather all year round, its beaches and the quality of its educational centres are some of the most obvious reasons, but there are many more.
Do you want to know what they are? Pack your suitcase and join us because ... your adventure on the Costa del Sol is about to begin!
A wide variety of accommodation
You'll be able to find different types of accommodation in Malaga, depending on your needs and the length of your stay. Living with a family is an option preferred by many students since it allows them to immerse themselves completely in Malaga's life and culture. If you come for a long stay, you can look for an apartment or a student residence. This is an option offered by many Spanish language schools.
The beaches and the climate
The influence of the Mediterranean can be seen in the Costa del Sol's climate, cuisine and lifestyle. During your stay in Malaga, endless afternoons on the beach and a sun that shines for more than 320 days a year will be part of your daily life.
Culture and history
Historically, Malaga has played a fundamental role in the evolution of Andalusia and Spain. Phoenicians, Romans, Arabs and other civilizations have passed through the capital of the Costa del Sol, leaving their mark through buildings such as the Roman Theatre, the Alcazaba and the Gibralfaro Castle. A destination where you can learn and a destination to learn about.
Nature, routes and active tourism
The variety of landscapes in the interior of Malaga province is one of the great surprises for those who discover the Costa del Sol. Beyond its beaches, you can enjoy natural parks, Biosphere reserves, gorges, rivers and a wide range of activities in beautiful natural surroundings. El Caminito del Rey (The King's Pathway) and El Torcal de Antequera are just two of the places that will leave you speechless.
Range of leisure opportunities
Malaga is a city whose range of leisure opportunities is practically unlimited. Visits to museums, galleries and monuments, excursions to villages, afternoons on the beach ... Those who want to enjoy the nightlife will also find alternatives for all tastes, from concerts and festivals to bars and pubs.
Cuisine
Tapas are the perfect way to try different dishes and get to know Malaga's cuisine. You can try them in numerous bars and restaurants that, in addition, usually have a terrace so that diners can enjoy the best flavours in pleasant outdoors temperatures.
Quality of teaching centres
The Accredited Teaching Centres in Malaga province offer the greatest diversity of courses in Spain. Most also have the official certification of the Instituto Cervantes.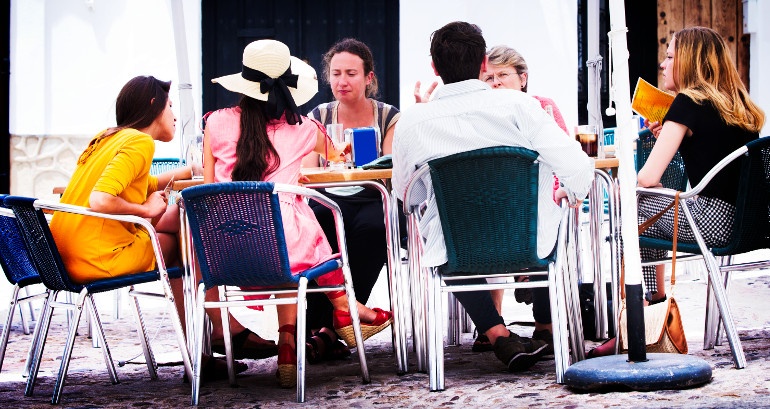 Open character / making friends
During your stay in Malaga, you'll have the opportunity to meet other students learning Spanish. You'll also meet many people from Malaga, because if there's one thing that characterizes them it's their openness and hospitality.
International Airport
This is another factor that may influence you to choose Malaga as a place to study Spanish, because its international airport is a real gateway to the world, with connections to hundreds of cities and countries.
Security
Last, but not least, is security. Malaga is considered one of the safest cities to live in, as are the province's towns and cities. These are all places you can enjoy with complete peace of mind.