Got a family holiday on the horizon? If you're still looking for a destination, Marbella has got it all. The seaside town is bursting with activities that all the family will love. Keep reading to discover all the things to do with children in Marbella and get ready to make some unforgettable memories.
Sun, sea and sand
If you've chosen Marbella as the destination for your family holiday, you're sure to be considering enjoying a couple of days of sun, sea and sand. This stretch of the Malaga coastline has got all sorts of family-friendly beaches, many of which boast the Blue Flag, a sign of quality. In Puerto Banús, a beautiful marina where you can take a stroll and marvel at the luxury yachts, you can enjoy Río Verde, a beach with shallow waters that your little ones will enjoy splashing about in. Las Chapas and Artola are another two beautiful beach destinations. With fine sand and no rocks, both these beaches are ideal for a family day out. They don't get too busy and there are all the recreational activities and services you could possibly want or need. Your kids will have hours of fun on pedalos and trying out all the water sports on offer.
Exciting adventures
Sitting just 500m from the Marbella coast, Aventura Amazonia is a tree-top adventure park. There are six levels of circuits, meaning that you and the kids - whatever their age - can enjoy an exciting day out. The park has cafés and restaurants where you can relax after a long day of fun. Tickets (valid for 3 hours) give you access to 99 challenges and 26 ziplines in the different circuits: Deportivo, Aventura, Jungla, Explorador, Kids and Minikids, as well as 3 initiation circuits.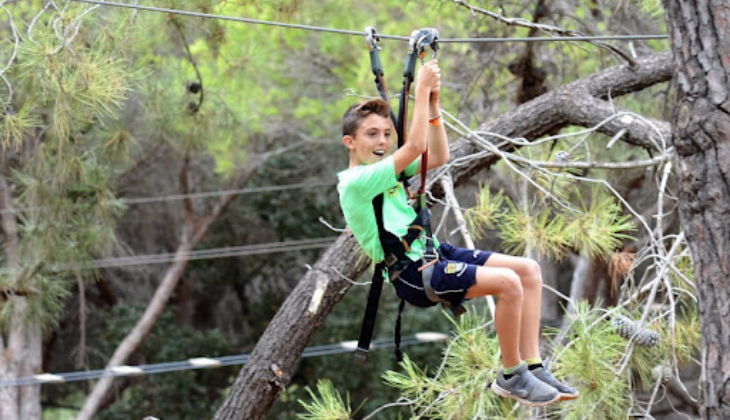 Fuente: Aventura Amazonia
Fun in the great outdoors
It's important for kids to do exercise from a young age and, even more important, that they enjoy it. Marbella is a paradise for sport lovers, no matter your age. You and the kids can enjoy all sorts of sports and activities in the great outdoors all year round. Get your kids doing some cycling, horse riding, golf, beach volleyball, sailing, kayaking and paddle surfing, accompanied by an instructor, while you kick back at one of the chiringuitos, beach restaurants, to enjoy the local cuisine. There are countless summer schools and water sport centres situated along the Marbella coast where your kids can enjoy their favourite sports and make new friends. Family fun is guaranteed in Marbella.
Family-friendly parks
Marbella is full of beautiful parks where you can take a leisurely stroll with all the family and let your children have a good run around. A good example is Arroyo de la Represa, which has a duck pond and Museo del Bonsái, a bonsai museum. You will also want to visit La Alameda, Marbella's best-known park. Throughout the summer months, there are events and concerts at La Constitución, another park that you'll want to put on your list of things to do with children in Marbella. Pinar de Nagüeles park is a wonderful choice for a family day out: there are barbecues where you can cook up a feast.
Nearby: a day out with animals
If you're looking for an unforgettable family day out, plan a trip to Selwo Aventura. Just 23km from Marbella, this animal park is home to all sorts of plants and wildlife. Promising a safari experience, you can explore the park on foot or by 4x4, spotting over 2,000 animals from all over the world. Highlights include the only Asian elephant to be born in Spain, the bird presentations, ziplines and archery area. There are 3 restaurants where you can enjoy a taste of the local cuisine and a hotel, Selwo Lodge.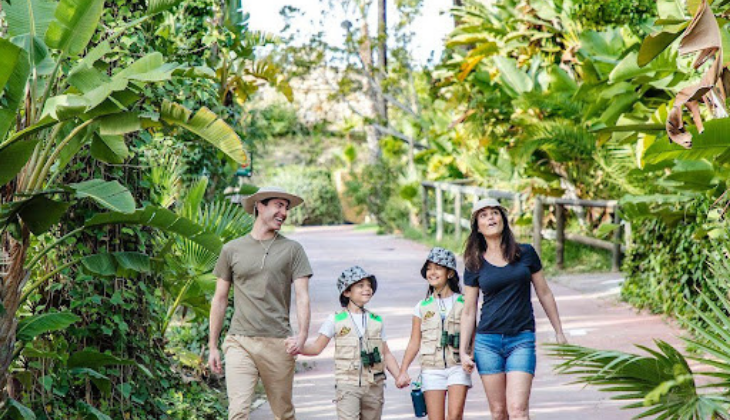 Fuente: Selwo Aventura
As you can see, there are all sorts of things to do with the kids in Marbella. Discover everything the province of Malaga has to offer and start planning an unforgettable family holiday.