Are you looking for a great place to take a Spanish course? Well, you're in the right place. The Costa del Sol is an unbeatable destination where you can improve your language skills while making the most of the beach, soaking up the culture and enjoying the incredible weather. The province of Malaga boasts a wide range of schools and activities where you can work on your Spanish. Keep reading to discover some of the best.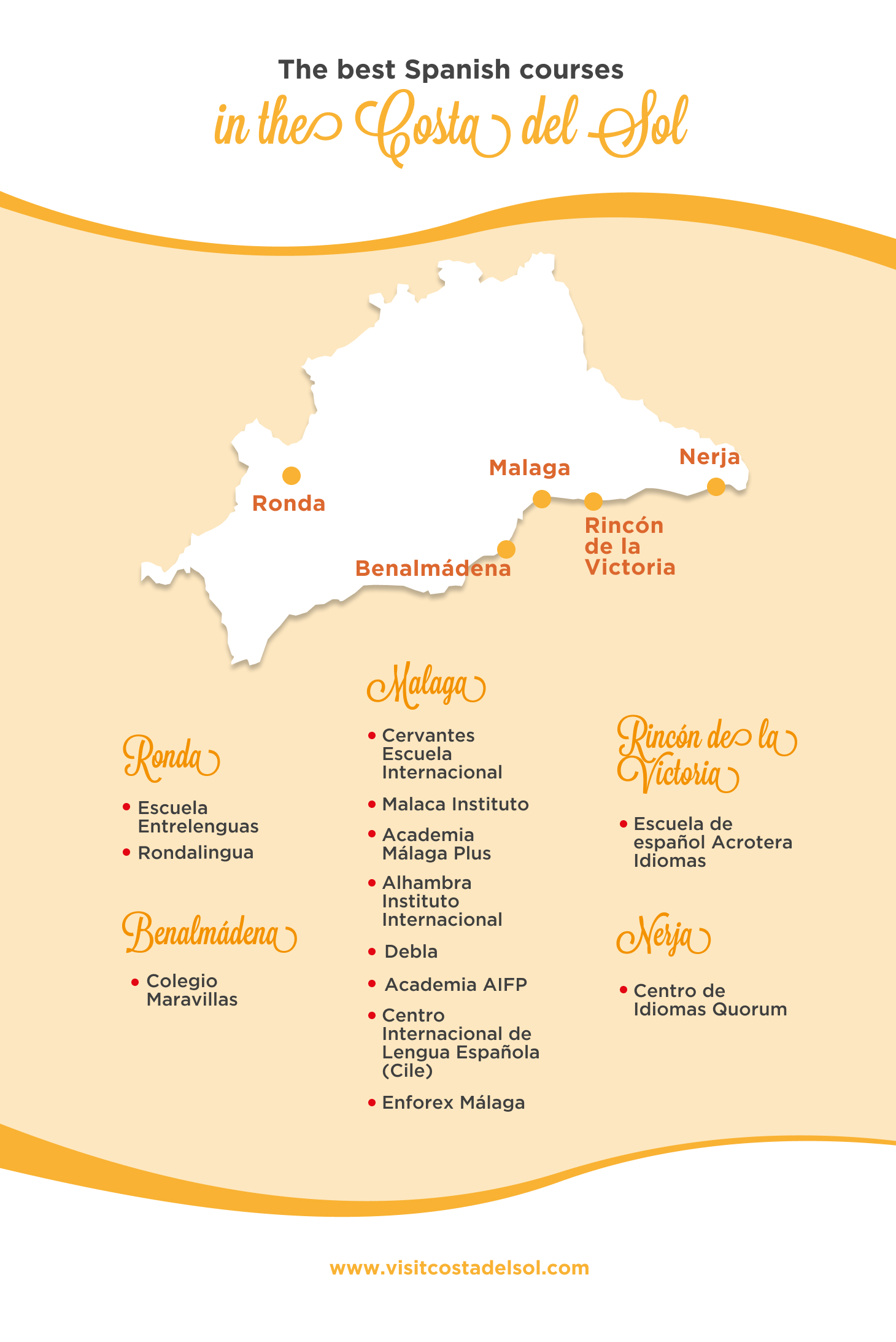 Centro de Idiomas Quorum –Nerja
If you've chosen the charming destination of Nerja as the place to learn Spanish in Malaga province, Centro de Idiomas Quorum is a great choice. Accredited by Instituto Cervantes, the school offers Spanish courses with small class sizes, giving you more opportunities to interact and therefore see improvement more quickly. The course catalogue features both intensive classes and exchange programmes.
Acrotera Idiomas Spanish School - Rincón de la Victoria
If you're looking for a destination to learn Spanish that combines all the services you could possibly need and the peaceful atmosphere of a seaside town, Rincón de la Victoria is it. Just 18km from Malaga city, Acrotera Idiomas is a centre that offers Spanish classes (although it is not a Spanish school) where you will make considerable progress in no time.
Enforex Málaga - Pedregalejo (Malaga)
Enforex Málaga is a warm and friendly Spanish school that guarantees results. A wide range of Spanish classes are on offer, all of which are tailored to you and your level. The centre has ten classrooms, a garden and a pool and is located in Pedregalejo, one of the most popular districts among Spanish students.
Fuente: Enforex Málaga
Cervantes Escuela Internacional - Pedregalejo (Malaga)
Also situated in Pedregalejo, Cervantes Escuela Internacional has over 30 years' experience in providing Spanish classes for foreigners. It has high quality interactive teaching materials that are internationally renowned. What's more, the school runs an excellent social calendar so you can immerse yourself in the language and culture of Spain.
Academia Málaga Plus – Pedregalejo (Malaga)
Located in the capital of the Costa del Sol, Academia Málaga Plus offers Spanish classes just metres from Pedregalejo beach. The school has a relaxed atmosphere and promises a multicultural and fun environment where you can work on your language skills.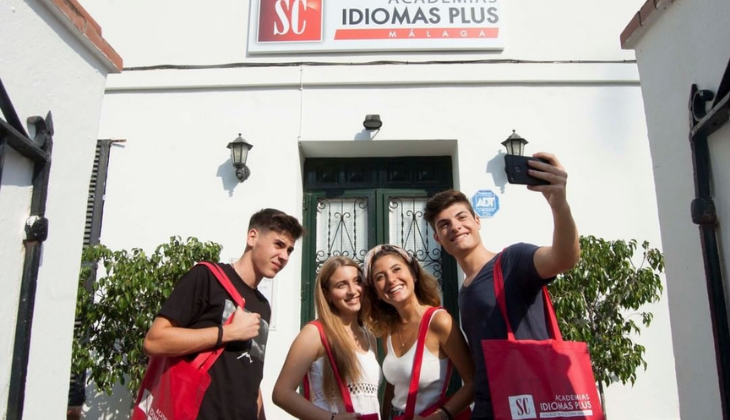 Fuente: Academia Málaga Plus
Academia AIFP - Malaga
Sitting just steps from the cathedral in the heart of Malaga city, Academia AIFP is an Instituto Cervantes accredited school that offers a wide range of classes taught by the highest quality native-speaking teachers. The school also offers accommodation for students.
Centro Internacional de Lengua Española (CILE) - Malaga
Situated in the midst of Malaga's historic centre and just ten minutes from the beach, CILE is steps from plenty of sights, restaurants and cafés. Its experienced team of native-speaking teachers offer Spanish classes for students of all ages.
Fuente: Centro Internacional de Lengua Española (CIle)
Debla - Malaga
Debla is a school that exclusively teaches Spanish to foreigners. It enjoys a great location, just a 5-minute walk to the beach and 10 to central Malaga. In addition to Spanish classes, the school also offers accommodation and runs excursions such as cultural tours, cooking classes and sports activities. The school is accredited by Instituto Cervantes.
Malaca Instituto - Malaga
Malaca Instituto is a Malaga-based Spanish school with over 45 years' experience. It has been named the best Spanish school in the world and has taught 80,000 students from around the globe. The school is located close to the beach and the historic centre. The centre has 95 rooms, 25 classrooms, a study centre, bar, restaurant, pool, dance room, multi-activity room, meeting room, mini-gym, three terraces and gardens.
Alhambra Instituto Internacional - Malaga
Backed by 40 years' experience, Alhambra Instituto Internacional is a school providing Spanish lessons in the heart of the city and close to the beach, sights and museums. A selection of Spanish classes are available, offering 20, 25 or 30 lessons a week, that are tailored to your individual needs.
Colegio Maravillas - Benalmádena

Colegio Maravillas is one of the leading Spanish schools in the Costa del Sol. Located in Benalmádena, this Instituto Cervantes accredited school has 13 well-equipped classrooms, expert teachers and even a cinema.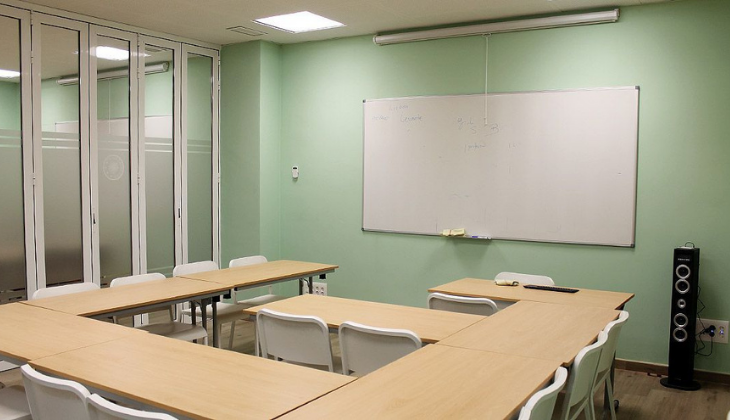 Fuente: Colegio Maravillas
Escuela Entrelenguas - Ronda
Fancy learning Spanish in a breathtakingly beautiful destination? Escuela Entrelenguas, situated in Ronda, will take you on a thorough exploration of the town: in addition to its Spanish classes, the school also runs cultural events.
Rondalingua - Ronda
Located in Ronda, Rondalingua is a Spanish school with an excellent teaching team, modern facilities and strong connections with the local community. The school's programmes will immerse you in the Spanish language and local culture with experiences tailored to each group, focusing on culture, music, history, gastronomy, wine, nature and more.
So there you have it. A list of some of the places where you can take Spanish classes in the province of Malaga. But don't forget, this is just the start. Take a look at the Asociación de Escuelas de Español en Málaga website to find the perfect school for you. And look out… once you've finished your course, you might just find yourself wanting to come and live in the Costa del Sol. If you choose to do so, you will find an incredible place to live and a destination that has been welcoming people from all over the world for decades. So bienvenido!