If you're thinking of visiting the Costa del Sol with your family this festive season, make sure you don't miss one of the destination's most spectacular Christmas attractions: the Malaga's Christmas lights, which you can see on Calle Larios and in other parts of the city. Over recent years, the festive lights have become the city's most popular Christmas sight, drawing in more and more visitors every year. Shall we go on an exploration of the streets and areas that have been decked for the festive season?
A short history of Malaga's Christmas lights
2014 marked an evolution in Malaga's Christmas lights: this year, Calle Larios, a main shopping street, was transformed into a spectacular light show in the form of a Gothic cathedral. A year later, the light structure changed to create vaults decorated with stars and moons. And in 2017, the lights were inspired by the stained glass windows and domes of the city's impressive cathedral.
Bosque de la Navidad: the Christmas lights on Calle Larios
This year's light show on Calle Marqués de Larios is entitled Bosque de la Navidad, meaning Christmas forest. The spectacle comprises 22 arches that are an impressive 12.8m tall and decorated with 342 leaves, 100 suns and angel figures. This year's structure is the same as last year's, but with one major difference: this year the display is taking place while last year it was forced to be cancelled due to the pandemic. This Christmas, wander through the light show and feel like you're in a magical festive story.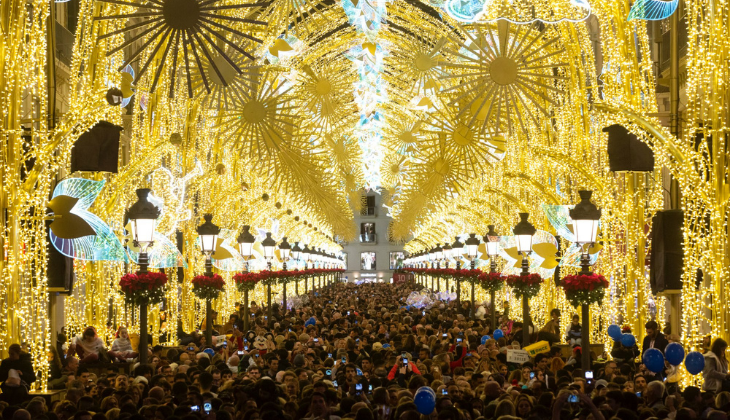 Fuente: Foto Daniel Pérez
Some 500 streets decked with lights
This year, some 500 streets in Malaga are sparkling with Christmas lights. More lights have been put up in the most iconic parts of the city, including Alameda Principal where pretty streamers hang from century-old trees. There are also illuminated light trails in other central areas such as Plaza de la Marina, Alameda Principal and Museo de Arte Contemporáneo and Calle San Juan has been lit up with some striking new chandeliers. Which lights are your favourites?
Projection mapping on the cathedral
Another of the highlights of Malaga's Christmas lights is the festive themed projection mapping display on the cathedral's southern tower. Combining light and sound, the spectacle also shows the construction of the tower itself, which is still unfinished. To prevent large crowds from gathering, the exact timing the projection starts is not announced in advance (as is the case for the lights on Calle Larios). What we do know, however, is that it will be between 7pm and 10pm so we recommend being in the area around this time. You might just be lucky enough to see it.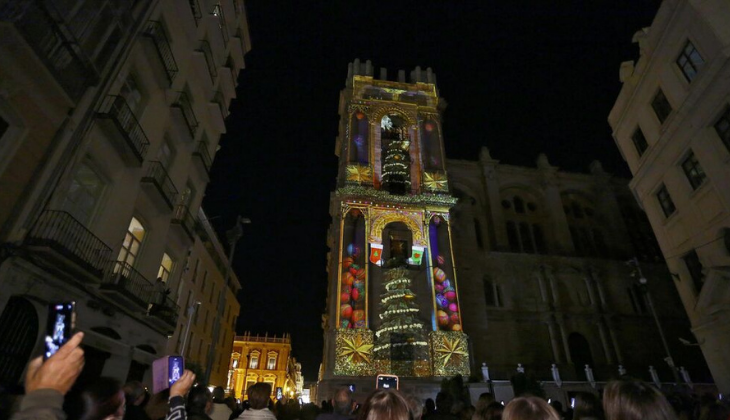 Fuente: Málaga Hoy
Lights at the Botanic
Far from the spectacle on Calle Larios, Jardín Botánico de La Concepción has put together an elegant and tranquil light display that will blow you away. Different parts of the grounds have been adorned with simple lights in shades of blue, pink and white to create a warm and magical atmosphere. The immersive trail counts some two million lights over the course of 2km. This is no ordinary walk in the park.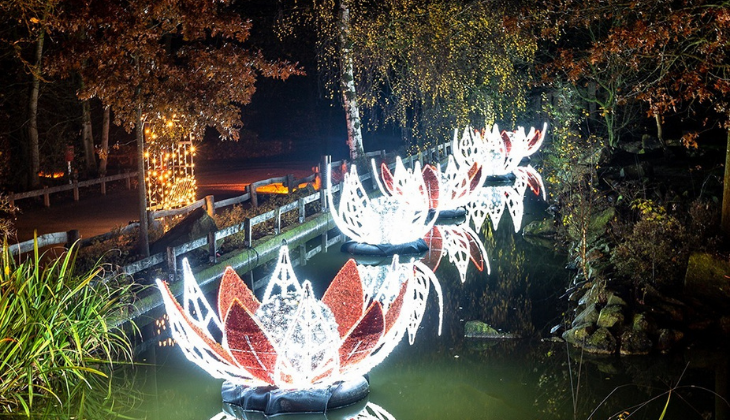 Fuente: Las Luces del Botánico Málaga
Immerse yourself in Christmas cheer as you enjoy warm and sunny days in the province of Malaga. With its boundless experiences and incredible weather - even in winter! - the Costa del Sol is an unbeatable destination for an incredible family holiday. So what are you waiting for? Start planning your trip today.