On January 11, 1959, five teenagers went in search of bats and stumbled upon what is now the most-visited natural monument in all of Andalusia: Nerja Cave.
In fact, the history of Nerja Cave dates back to that winter day, when Francisco Navas, Miguel Zorrilla, his brother Manuel Zorrilla, José Torres and José Luis Barbero were heading to the nearby Cueva del Cementerio on their search for bats. Having strayed from their intended route, a happy accident happened: they ended up in a cave of rocks and stalagmites and got lost.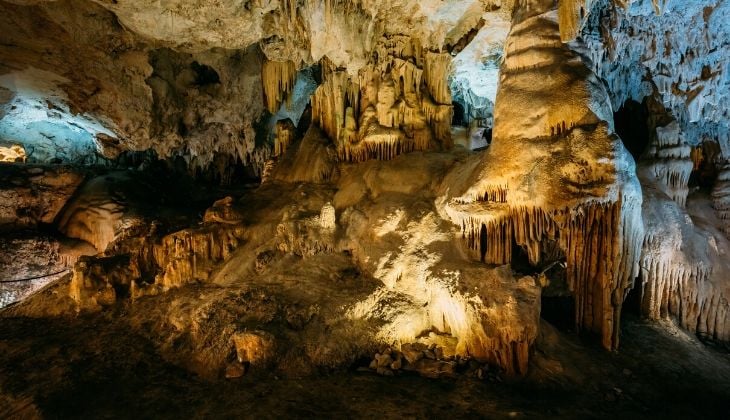 The truth is, the cave where the bats were supposed to be was impossible to get into. Realizing this, the five teenagers went home and returned the next day, January 12, 1959, with hammers and flashlights. As they searched for the bats, they broke stalagmites from Torca Chica and dug their way into a literal hole. Once they found solid ground, they got into the hole and stepped into a room with walls that weren't covered in stone, but instead were covered in mud and bat excrement. They realized the bats were leaving through a small hole in the wall, so they decided to knock it down—opening the cave into a hidden place we all know and love today: "Sala de la Cascada." It is one of the most well-known interior rooms in Nerja Cave and has hosted countless performances of famous artists like singer Ainhoa ​​Arteta.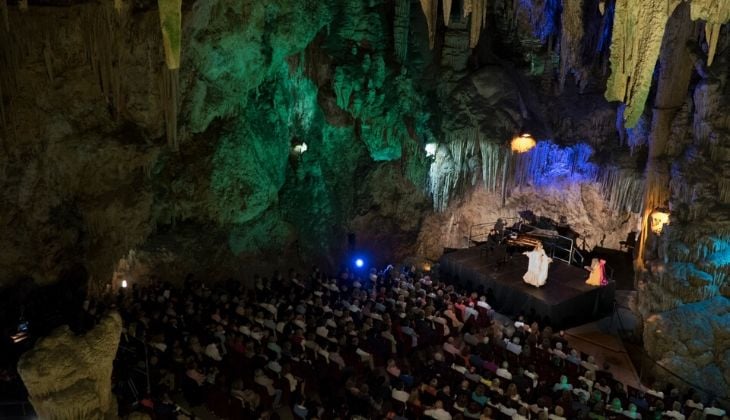 Source: Cuevas de Nerja official Web
When they were done with their mission, they took some "pieces of fossil" as souvenirs to bring back to their teachers and let them know what they had found. Upon seeing these "souvenirs," the teachers were instantly curious. A few days later, the teenagers went back to that cave with their teachers. Knowing the value of this special place, the teachers verified their discovery and photographed the area—these were the first photographs ever taken of Nerja Cave!

Today, only a third of the cave's interior (an area called "Galerías Bajas") is open to the public. A decade after this story took place, two other rooms in the cave, the High and New Galleries, were discovered. Today, those rooms remain closed to the public on the basis of safety and preservation.
Cuevas de Nerja: entrances and surroundings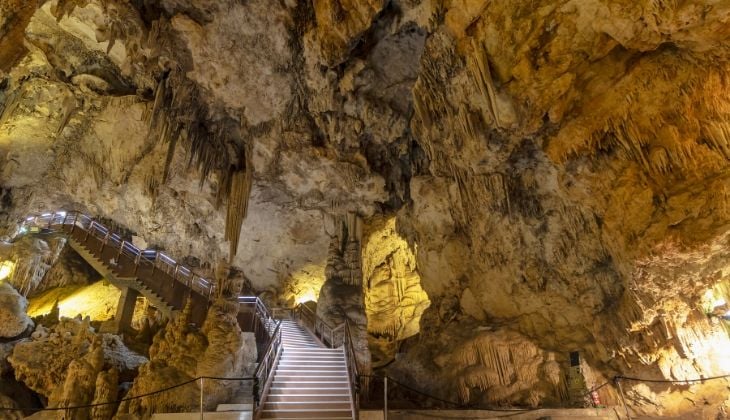 While discovering Nerja Cave might have been a coincidence, today, it is a Site of Cultural Interest and Spanish Historical Heritage. Want to visit this impressive natural space? Visit the Nerja Cave website and buy admission tickets. There are special discounted packages for families and couples, and for more daring visitors, there are speleo climbing opportunities, as well.
Nerja Cave is one of the most extraordinary underground landscapes in Spain. Visit with family and enjoy all that its surroundings have to offer: like impressive beaches, a wide range of accommodation options and delicious cuisine.

If you find that this excursion leaves you wanting more, go caving in Costa del Sol's many other magnificent caves! For starters, don't miss Cueva de la Pileta and Cueva del Gato (both in Benaoján), Cueva del Tesoro (Rincón de la Victoria) or Cueva de la Fuensanta (Igualeja). See you there!