Few destinations can accommodate as many social events, conferences and meetings as Costa del Sol. Malaga is a top destination for international tourism! Its capital, coastal villages and neighbouring towns are packed with hotels for every type of traveler, and adding to their trip, visitors will find an impressive combination of beautiful vistas, delicious food, interesting cultural activities and warm weather all year round. On top of that, meeting spaces can be tailored to groups of all sizes, in any industry.

Costa del Sol has actually been a leader in Spanish tourism, and knowing this, many of its hotels are designed to accommodate large events and conferences. It has the highest concentration of five-star hotels in Spain, with 144 hotels and 551 total meeting rooms (which can fit up to 67,000 people!) in Malaga alone. Looking for something simple? Malaga has that, too. Event planners can choose from a wide variety of venues that meet every desired budget and ambiance.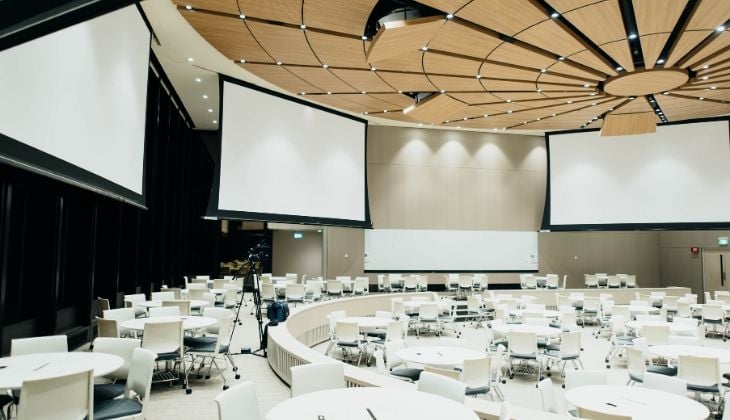 Five-star, luxury hotels where you can host events in Malaga
Gran Hotel Miramar Resort & Spa*****GL (Málaga)
The Gran Hotel Miramar Resort & Spa 5* GL, which is located in ​​La Caleta (Malaga), offers a unique view of both the Mediterranean Sea and the bay of Malaga. Of its many amenities, it's important to note that the hotel has 200 rooms, five restaurants, a convention centre that can hold up to 700 people, spacious garden areas, a spa, a gym and 15 meeting rooms that are equipped with the latest and greatest audiovisual equipment.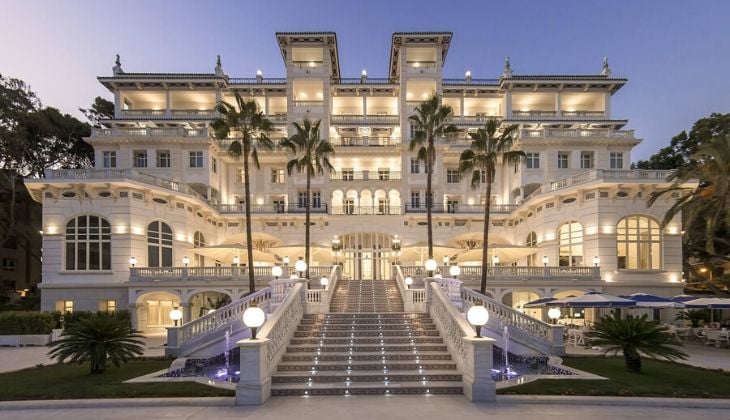 Source: Gran Hotel Miramar Resort
Puente Romano Beach Resort*****GL (Marbella)
The idyllic Puente Romano Beach Resort 5* GL hotel is a great place to host conferences and business meetings in Costa del Sol. Its spaces can adapt to the needs of any group, and it couples modern facilities with Andalusian-style decor, outdoor terraces, spacious ballrooms and a backdrop of the Mediterranean Sea.
Elba Estepona Gran Hotel & Thalasso Spa***** (Estepona)
Elba Estepona is a dream destination for companies looking to host a business event in Costa del Sol. It has meeting rooms, gardens and terraces that overlook the Mediterranean Sea, and its different event spaces can hold a maximum of 300 people.
B Bou Cortijo Bravo***** (Velez – Málaga)
B Bou Hotel Cortijo Bravo is an idyllic setting for business and leisure events. It has delicious fare and several rooms with spectacular views of the Mediterranean Sea, and its events team has 10+ years experience organising some of the best occasions in the city.
Four-star hotels where you can host events in Malaga
Hotel Higuerón Málaga Curio Collection (Fuengirola)
Overlooking the Mediterranean Sea, the luxurious Higuerón Hotel Málaga Curio Collection by Hilton was designed with business travelers in mind. It houses a wide range of meeting spaces, including 10 breakout rooms, as well as a new conference center with a state-of-the-art audiovisual system. Its rooms have the capacity to host any type of event, from 10 to 1000 attendees, and there's even an outdoor auditorium that can fit up to 750 people, different garden areas and six restaurants—including 'Sollo,' a 1* Michelin restaurant.
H10 Andalucía Plaza**** (Marbella)
Located just steps from the famous Puerto Banús, the H10 Andalucía Plaza hotel has eight meeting rooms that can accommodate up to 1,000 people each. Modern venues, multifunctional outdoor spaces and a renovated spa make it the perfect place to have a meeting—and then relax.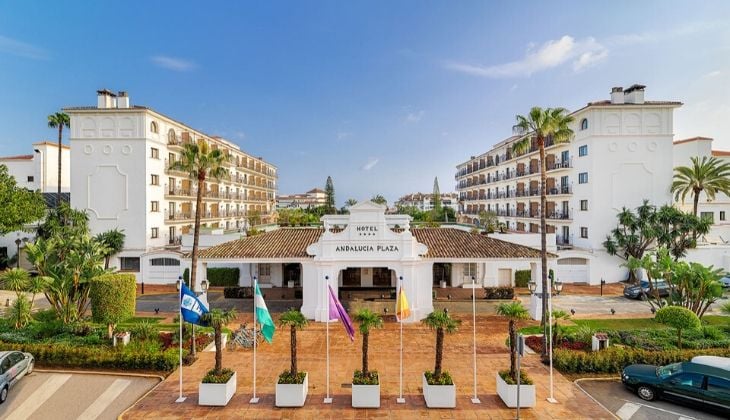 Source: H10 Andalucía Plaza
Hotel Barceló Málaga**** (Málaga)
Considered one of the best business hotels in Costa del Sol, this modern Barceló hotel hosts all kinds of events in Malaga. It has an impressive meeting area for up to 1200 people, and its location can't be beat—the hotel is right next to the capital (near the train station) and is only 15 minutes from the airport and Malaga's historic city centre.
Farmhouses, farms and unique spaces where you can host events in Malaga
Finca Amalur (Marbella)
With its stunning gardens and perfect sea views, Finca Amalur is a wonderful place to host both corporate and leisure events! It even has a charming interior lounge that can host up to 400 visitors.
Cortijo de Cortes (Benahavís)
Cortijo de Cortes is filled with versatile spaces for every type of meeting and event. Whether you're in one of its garden areas or its different-sized rooms, this venue offers personalised banquet services that can adapt to the needs of any occasion.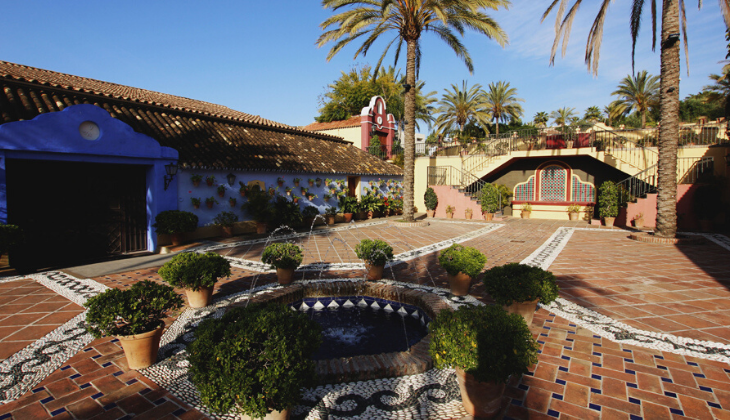 Source: Cortijo de Cortes (Benahavís)
Málaga Automobile and Fashion Museum
Located in one of Malaga's old tobacco factory buildings, the Malaga Automobile and Fashion Museum is the ideal place to host large-scale events. Its 6,000-square-metre interior can be divided into 10 spaces, and the museum can accommodate up to 3,000 visitors. Whether you're hosting a presentation, a conference, a lunch meeting, a networking day, a themed dinner, a fashion show or something else, events here are simply unforgettable.
Plaza de Toros Restaurant (Antequera)
Sitting in the heart of Andalusia, Plaza de Toros de Antequera Restaurant is housed in one of the oldest, most beautiful and best-preserved bullrings in Spain. Its facilities are fully prepared for all types of events and can accommodate 6,000+ people.
Álamo Treasury
Sitting on a treasured estate, Hacienda del Álamo is a beautiful 19th-century mansion known for its events. Within the mansion, visitors will find different lounges, gardens and outdoor dining areas, and outside, there is parking for up to 500 cars.
Are you looking to host your next event in Costa del Sol? We hope you loved our selection of top hotels and event spaces in Malaga—but there are so many more. Find more venues here.