The Montes de Malaga Natural Park spreads out over close to five thousand hectares. It is Malaga's most important green space and a place for enjoying nature. The Environment Ministry of the Autonomous Government of Andalusia has signposted five walking routes around the park.
However, here we want to offer you some other less well known routes where you can discover so much more as you go walking in the Montes de Malaga.
'Mirador del Cochino - Mirador Vázquez Sell' hiking route
Distance: 6.6 km - Easy - Linear Walk
Take the A-7000 (exit 547) from Malaga to reach the 'Mirador del Cochino' . From the starting point there are wonderful views over the countryside and the city. There is a sculpture of a wild boar, the 'cochino' that gives this viewpoint its name. From here follow the footpath signposted 'El Cerrado'. This is a mostly flat, easy walk.
Our destination is the 'Mirador Vázquez Sell', also with panoramic views. In Spring and Autumn there is the additional attraction of seeing birds of prey in flight. This observation point is one of those recommended by the Autonomous Government of Andalusia for watching these birds. Retrace the same route to return.
Route 'Torrijos – Chinchilla'
Distance: 8km - Moderate/Easy - Circular Walk
This walk starts from the 'Lagar de Torrijos', an ecomuseum and camping area. A 'lagar' is a typical agricultural dwelling in the Montes de Malaga which has a central space used for making wine.
To start the walk head north towards the Carretera de los Montes until reaching a small footpath, with a chain across, on the left. Take this path and, keeping left, descend the Arroyo El Mirlo. This is an area with an abundance of streams and other wineries such as the 'Lagar de Santillana' or the 'Lagar de las Ucemillas' (close to one of the points on the walk).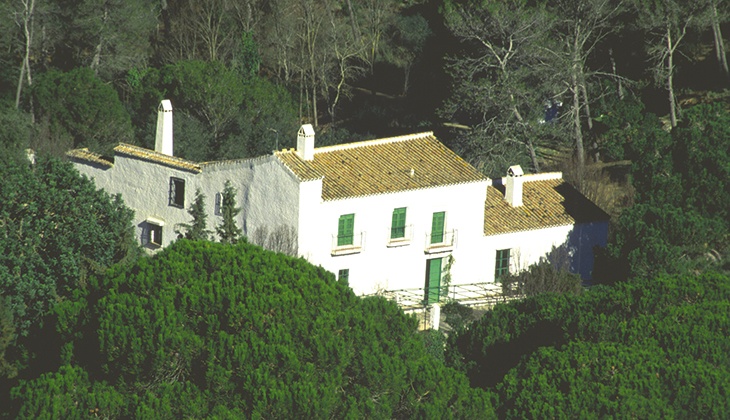 Route towards Molino del Viento
Distance: 3km - Easy - Linear Walk
'El Molino del Viento' is an easy walk on level ground and provides the perfect introduction to walking in the Montes de Malaga. This walk starts from the mountain track to 'El Viento'. To get here go past the Fuente de la Reina (the Queen's fountain) and the El León inn on your right. Continue for approximately one kilometre and there is a track that leads to El Viento (1,029 metres), the second highest peak in the Montes de Malaga.
One of the most enjoyable aspects of this walk is the wide variety of fauna and flora. Jays, robins, crested tits and wood nuthatches are some of the most frequent visitors, whilst chestnut, walnut, willow, roses, honeysuckle, hawthorn and gall oaks stand out amongst the vegetation.