The most eagerly anticipated summer party in Malaga is on its way once more: Malaga's August Fair, which this year is being held from Saturday 11 August to Sunday 19 August.
Don't miss this opportunity to enjoy music, dancing and fun.
Fireworks Night
The festivities officially start on the evening of Friday 10 August, with an inaugural speech from the Town Hall balcony by Malaga writer and columnist, Pablo Aranda. At precisely midnight on Malagueta Beach, the musical fireworks show will fire the starting shot to mark the beginning of the fun. To accompany this explosion of light and colour, there will be a concert by the group Efecto Mariposa on the beach itself.
New elements
One of the new elements of the feria this year is the switching-on of the lights at the Real Cortijo de Torres. On Saturday 11 August, and a few minutes before this act begins, an audio-visual spectacular will be projected onto the forecourt of the main entrance of this festival arena, including 'video-mapping' in which various images of the city will be shown, alongside pictures of special moments of past ferias.
Another new element of this year will be that all the galas held at the Municipal Auditorium will start with a display of typical dances of Malaga. Also in the Auditorium every day, once the headlining acts have finished their musical performances, a locally renowned artist will perform, such as Encarni Navarro, Jarrillo Lata, Celia Flores and Ginéz González, Juanma Jerez and Aurora Guirado and Virginia Gámez.
On Sunday 12, some of the city's most well-known comedians will perform a heartfelt tribute to the Malaga humorist Chiquito de la Calzada.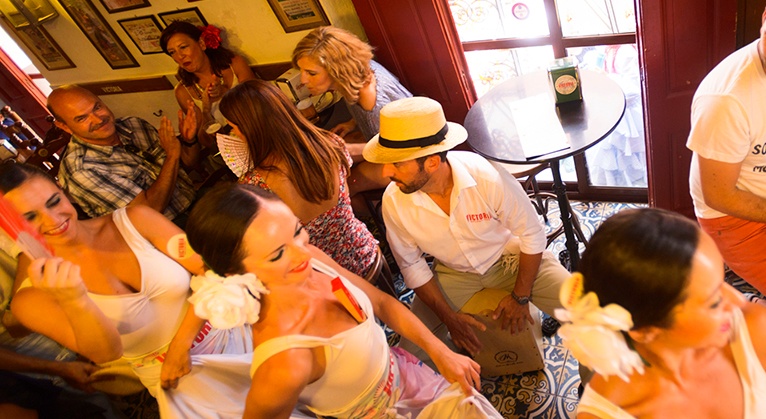 City Centre Fair
In the city's squares (Plaza Constitución, Uncibay, Mitjana, Las Flores, del Obispo and San Pedro de Alcántara) there will be more than 100 free performances by different artists gathering thousands of people to enjoy the sound of music from both outside and inside of the local establishments, because Feria is enjoyed in the street.
In Calle Larios, the street which is the nerve centre of the city, there will be a stage dedicated to popular Malaga folklore, with traditional dances and songs. Lots of activities will be organised here, with highlights being dancing contests, short film competitions and children's parties.
Bullfighting aficionados will be able to enjoy bullfights in the Plaza de la Malagueta every afternoon, featuring great names from the bullfighting world. Enrique Ponce, El Juli, Manzanares, Padilla, Talavante and Roca Rey will be some of the bullfighters aiming for an afternoon of glory in this beautiful top-class bullring.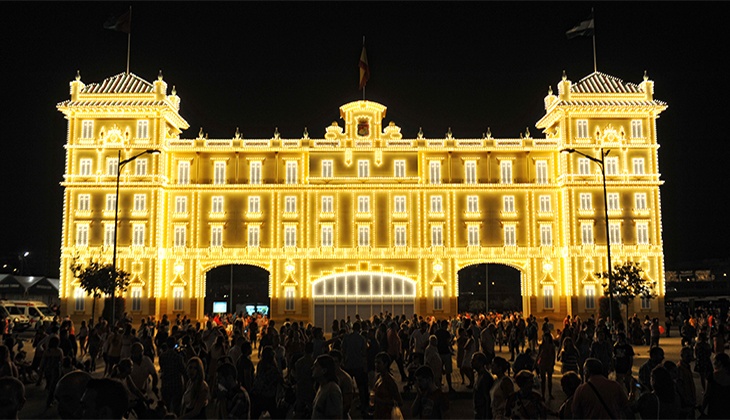 Festival both Day and Night Real Cortijo de Torres
But the festival doesn't end here, it just continues in the Real de Cortijo de Torres. Both night and day you can have fun in this dedicated festival arena, where you can take ride in a horse carriage dressed in flamenco clothes or have a glass of Cartojal wine in one of the stands which are traditionally decorated with lanterns and green tables, where there are always live performances and flamenco to be found.
And feria wouldn't be feria without fairground rides, or "cacharritos" as the locals call them, where the old and the young can have a great time.
Finally, it is music which is especially important throughout the week with performances from artists such as Niña Pastori, Marta Sánchez, Arrebato, Merche, Siempre Así and Efecto Pasillo.
Don't miss one of the most talked-about summer festivals in Andalusia.