The Costa del Sol is best enjoyed slowly, being seduced by all its charms and stopping to appreciate every detail. Ronda is a fabulous town in the province of Malaga that has been charming travellers from all over the world for centuries. Characters like Benjamin Disraeli, Richard Ford, Martin Amis or Orson Welles were already in love with Ronda, one of the most beautiful and representative places of Spain. One of those cities that seems to have no end, and which continually offers more and more things. Slow travel bets on a new way of discovering destinations exploring them little by Little, as if you lived in them.
Entrelenguas School adds to its training activities a wide catalog of products to experience immersion in the culture and leisure of Ronda. Learn Spanish 'from within' with these 10 sustainable tourism plans offered by Entrelenguas!
1. Ronda experience
Ronda is a town nestled in the middle of a spectacular landscape and with an impressive artistic and monumental heritage. Yes, Ronda is full of history, but it is also rich in daily stories. Would you like to feel the life of the locality and stroll through its streets like any other villager? Entrelenguas offers you a different route, experiencing everyday customs, visiting artisan workshops, tasting local sweets, living the true rhythm of Ronda in the company of an official guide... Be "rondeño" for a day!
2. Cooking in the vineyard
Obviously slow travel also leads you to enjoy slow food. Entrelenguas offers the possibility to visit some vineyards at the foot of the village with a kitchen workshop included. Discover how the wine of Ronda, famous for centuries, is produced in an ecological way and why Mediterranean gastronomy is known around the world. With this visit you will be able to discover the product in its origin and cook delicious dishes with it. The Mediterranean Diet, declared Heritage of Humanity by UNESCO, is the healthiest cuisine that exists.

3. The liveliest cultural programme
Enjoy the cultural events that a city like Ronda is continuously offering. Entrelenguas fills your agenda with the most interesting and special activities that give life to the cultural pulse of Ronda. From microtheatres and exhibitions to concerts or gastronomic culture events... Everything that fascinates the local public is at your fingertips too.

4. "Experience Local"
Entrelenguas has designed a Ronda guide, "Experience Local", specially made for sustainable tourism. This way, you can see firsthand which establishments develop good practices of responsible consumption and bet on 100% local products. The guide works as a collaborative network so that tourism services and visitors can embrace this same way of understanding tourism.


5. Ronda Guided Tour
Ronda has so much to discover! This visit will take you through its emblematic monuments: the Mondragon Palace, the Arab Baths and the Puente Nuevo, a bridge that crosses the iconic Tajo de Ronda. But slow travel does not end there. The visit will bring you closer to the soul of the city and will allow you to delve into legends and singularities of the city that other types of tours do not include: the San Francisco neighbourhood, its shops, the walls and the old Arabian Medina...


6. Photography Tour
The travel experience provided by Ronda is so special that it should not be immortalized in any way. This route takes you through its streets, monuments, people and landscapes by the hand of a professional photographer. With this activity you will have a unique opportunity to capture with your camera the most special places and the incredible light that charmed so many poets, filmmakers and painters.

7. Wine Tasting
How about cheering up with a tasting of wine from Ronda? And better yet, all in an ecological cellar in contact with the earth. In addition, you can enjoy a fantastic lunch while enjoying great views of the famous Tajo de Ronda.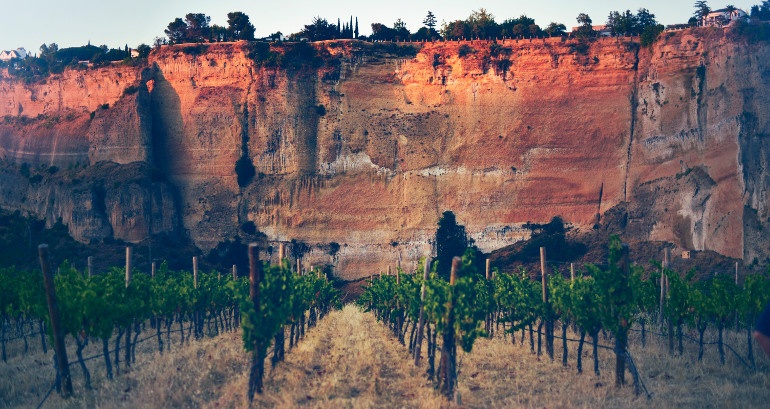 8. Volunteer Program
If you are interested in doing your bit in beneficial actions for the community in your new destination, don't you worry. Entrelenguas puts at your disposal a special program for the development of social activities in different organisations of the municipality.

9. Organic Break
The natural environment of Ronda is extremely beautiful. The Serrania de Ronda is a natural area where organic olive oil, wine and Iberian ham is produced in the purest way, preserving all the quality and flavour of the tradition. Discover an unforgettable experience touring small white villages that are the hallmark of Andalusia.

10. Spanish for families
All these activities to get into the local life, this way of experiencing the Spanish traditions and their culture, can also be enjoyed as a family. Entrelenguas adapts its activities for people travelling with children, so slow travel in Ronda and the discovery of the traditional lifestyle of this authentic typical Spanish region is at the fingertips of the whole family.