Would you like to spend a few days far away from the daily routine and stress? Then this might interest you. If you're looking for a natural environment where you can relax and enjoy a romantic getaway, Montejaque is the ideal place for you. This small Serranía de Ronda village is located right in the Sierra de Grazalema Natural Park and is considered one of inland Malaga's best white villages.
Its charming streets allow you to enjoy spectacular views of the mountains and the valley, making it an idyllic place for those looking for a little calm and tranquillity.
Where to stay
Some of the best rural accommodation you'll find in Montejaque include the Casitas de la Sierra, the Posada del Fresno and the Cortijo Fuente Marchal. These are fully equipped with all modern services, some have swimming pools to enjoy during the summer months and all have splendid views.
Where to eat and enjoy tapas
In addition to its wonderful natural surroundings, Montejaque is also noted for its great cuisine. Despite being a small inland village, its numerous bars and restaurants are perfect for sampling the best tapas and specialties of the Serranía. Restaurants such as La Casita, Entre Ascuas, El Patio de Frasquito Pedro and El Altillo offer excellent traditional home-made dishes. If you prefer to tour the bars sampling tapas, we recommend you visit Bodeguita Don Adrián, or the bars Caniche or Conejo. Here, you're guaranteed to find a good atmosphere and they are ideal places for a beer or a good wine accompanied by excellent tapas.
What to see in Montejaque
Somewhere that you absolutely must see during your visit to Montajaque is the Hundidero Cave. At more than 50 meters high, its great rocky magnitude impresses those who come across it, which is why it has become one of the area's most spectacular attractions.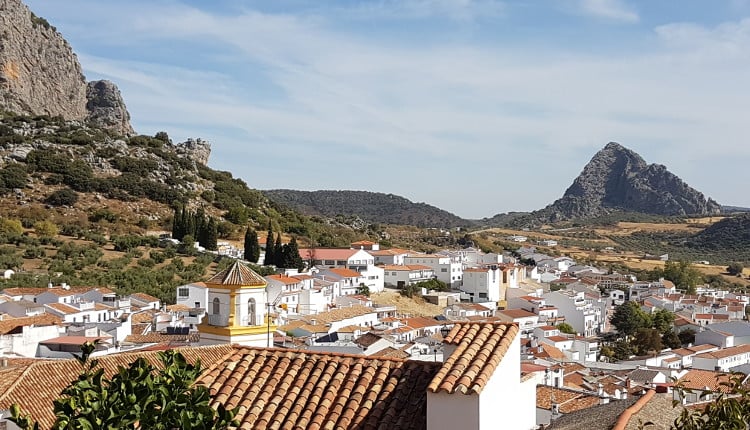 You should also visit the Barrio Nazarí old quarter, the El Castillo viewpoint, the Embalse de los Caballeros reservoir and the Caving Information Centre.
What to do
In addition to enjoying the peace and tranquillity of the area, you can take part in many outdoor activities thanks to the wide range of leisure and active tourism opportunities available. These include hiking, climbing, horseback riding, balloon rides, mountain biking and many others. Nor can we forget the via ferrata (protected climbing route) and the zip-line, which is 70 metres in length and almost 90 metres high, making of it one of the zone's greatest attractions.